While a smattering of freckles can be considered cute, there's nothing attractive about having dark spots all over your face. The name of these dark spots is hyperpigmentation, and it's a condition that causes patches of skin to darken, thanks to factors like sun damage, hormones, acne or skin injuries.
If your face and hands seem to be racking up dark spots, don't fret! Treatment options exist to help return your skin to its even-toned beauty. But before we examine how to treat hyperpigmentation, let's first explain what it is and why it happens.
How does hyperpigmentation happen?
That dark patch you're eyeing angrily? It's the result of your skin's melanocytes, which are cells that create the natural pigment in your skin, aka melanin. When these melanocytes are kicked into overdrive — either by an injury, inflammation or a hormonal change — they make extra melanin that causes dark spots. Some of these darker patches fade naturally over time, while others linger on and on and on …

What causes hyperpigmentation?
Several factors can lead to hyperpigmentation, and singling out the cause of your dark spots can help you choose your plan of treatment.
Age or liver spots tend to be the accumulation of a life lived — particularly in the sun. UV damage over the years forms solar lentigines, which are small dark patches typically found on areas that are frequently exposed to the sun (like your hands and face)You're your body has had a lot of time in the sun without sunscreen, you'll likely see these age spots come to the surface earlier in life rather than later. And yes, artificial UV light, such as tanning bed lights, also trigger the formation of age spots.
Though they appear similar to age spots, melasma or chloasma spots are typically larger and are often the result of hormonal changes, like pregnancy or birth control. They tend to form on the face — across the cheeks, bridge of the nose, forehead and upper lip — creating what has been dubbed a "pregnancy mask." Melasma can fade on its own when the trigger disappears (once the baby is born or if you stop taking birth control pills) but it can also stick around for much longer.
Postinflammatory hyperpigmentation (PIH) is yet another form of skin darkening that tends to strike people with darker skin tones. Its origins are typically an injury, such as a burn, or an inflammatory disorder like infection or dermatitis. More severe cases tend to last while some less serious ones will fade.
Dark spots also can result from acne; a purple or red mark may be left behind after the acne site heals. However, don't confuse these acne marks with acne scars — scars are raised or dented on your skin, whereas hyperpigmentation is just a discoloring.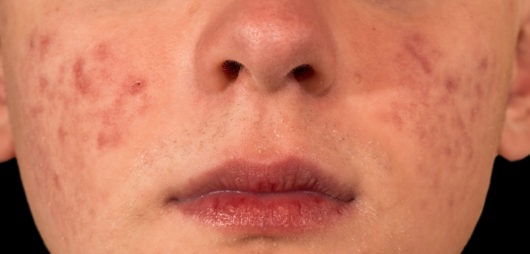 Okay, how do I treat my hyperpigmentation?
If you're battling any form of hyperpigmentation, diligent application of a broad-spectrum sunscreen is a must. But if you already have the age spots, what will sunscreen do? Plain and simple: Sunscreen will help prevent further damage — and, trust us: No matter your age, damage is always occurring. SLMD's Daily Moisturizer is a two in one solution that will hydrate and protect your skin. Not to mention, the sun has the potential to make those dark marks much worse. As for melasma, staying out of the sun and using sunscreen can fade the condition without need for further treatment, depending on the severity of the case.
Of course, after prevention, you'll want to add in topical treatments that can help visually improve age spots, melasma and PIH — and aid in slowing their formation. The topical retinoid, retinol, reduces discoloration by slowing the production of melanin, thereby lightening and fading dark spots. We recommend trying SLMD's Retinol Serum, which releases Vitamin A gradually throughout your skin to encourage cell turnover at night. Apply it after cleansing and before your moisturizer at nighttime!
Other popular treatment ingredients include kojic acid, azelaic acid (a good treatment option for PIH), licorice extract, arbutin (a natural alternative to hydroquinone), and niacinamide. Some of these ingredients can often be found in low doses in over-the-counter formulas, but your dermatologist can discuss any prescription options that contain them as well.
Chemical exfoliation (such as lactic or glycolic acids) also helps to remove extra layers of dead skin cells that tend to be darker in color, which evens out skin tone. SLMD Skincare has a Body Smoothing System, which includes a Glycolic Acid Body Scrub and Glycolic Acid Body Lotion. When used daily, these gentle exfoliators can truly make a difference in improving skin texture.
Finally, if the above recommended treatments aren't netting success in diminishing hyperpigmentation, your next step is an in-office treatment. The most effective treatments for hyperpigmentation include chemical peels, dermabrasion, microdermabrasion, laser and light-based therapies.
No matter how you choose to treat your hyperpigmentation, be sure to talk to your dermatologist first about the underlying causes so that they can assess your unique skin needs and put you on the right path to spot-free skin. And don't forget to slather on that sunscreen — the sooner, the better!
Peel Preparedness: What You Need to Know Before Your First Chemical Peel