Whether you're heading out for a day of fun in the sun or simply running a quick errand, applying sunscreen is key to ensuring you don't wind up coming home with a new wrinkle or a brutal burn.
That's right: Wearing sunscreen regularly may seem like a hindrance, but SPF doesn't just protect against sunburn — it's crucial to protecting your skin from signs of aging, too. UVA and UVB rays contribute to the breakdown of collagen and elastin (the culprits behind fine lines and wrinkles) as well as the formation of skin cancer.
Okay, so getting that SPF on before you leave the house is paramount, but are you applying it properly? Most people don't even know there's a proper way to apply sunscreen. That's okay — we've got you covered.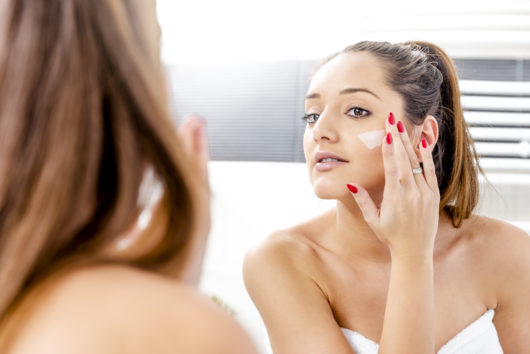 Protecting Your Complexion
Facial sunscreens now come in many different forms. There are the traditional creams and sticks, plus primers, foundations, powders, and setting sprays.
Apply a cream or stick sunscreen on your face as the final step of your skincare routine but before you apply your makeup. This type of SPF functions best without other skincare products on top of it, especially not oil-based products, as oil can break down a sunscreen formula and diminish the level of protection it provides.
After applying your sunscreen, wait a few moments to ensure it has sunk in properly, then apply your makeup. If you're planning on being in the sun all day, ensure you bring your sunscreen with you to reapply as often as is required on the product's instructions.
No info on the bottle? It's a safe rule of thumb to reapply sunscreen every two hours, after swimming or perspiring heavily (hey, it's hot out there, we get it!). Wearing makeup and don't want to reapply a liquid SPF? Opt for a powder version instead!
Many makeup companies have incorporated SPF into their formulas, and these are convenient two-in-one solutions for women who wear makeup every day. Primers and foundations often contain SPF 15, but when you're in the sun it's ideal to be wearing an SPF of at least 30. Sadly, SPF doesn't work the way basic arithmetic does — layering two SPF 15s on top of each other won't equal an SPF 30. Instead, opt for traditional sunscreen or moisturizer with a factor of at least 30, then layer on your primer or foundation.
Many makeup setting sprays on the market now contain SPF as well. These are meant to be applied after your makeup is applied, and are formulated to lock down that makeup and provide your complexion with the sun protection it needs. Make sure you wait at least 10 minutes before heading outside after applying these products as well. SPF-enhanced setting sprays are another great option for reapplying throughout the day without ruining your makeup.
Don't forget about your pucker! Find a lip balm that has SPF and reapply frequently throughout the day.
Shielding Your Body
When applying sunscreen to your body, experts advise that you use one ounce — a full shot glass, or a full palms' worth. Apply an even, medium-to-thick coating over your entire body — not just the surfaces that will be exposed to the sun. Clothing only shields your skin so much (a white shirt has an SPF of less than 10), and our clothes tend to shift and scrunch as we move, sit and go about our day.
Applying sunscreen to your body before you get dressed is the easiest way to ensure you don't miss a spot. Some areas that are often forgotten when applying sunscreen: our back (ask someone to help!), ears, tops of the feet, hands, armpits and backs of our arms, scallop, and side and back of the neck. To ensure your sunscreen won't rub off on your clothing, let it set for a few minutes before you get dressed. Then, wait at least 20 minutes before heading out to ensure your sunscreen has penetrated your skin. Reapply every two hours, or after sweating or swimming, to ensure continued protection throughout the day.
It's important to note that these are just basic rules of thumb — carefully read the instructions that come with your sunscreen of choice to ensure you're applying (and reapplying!) in the correct method and time frame.
Accurate application of sunscreen can save your skin from sagging and loss of firmness, and prevent life-threatening illness. You may not just be saving face — you could also be saving your life.