Ever have those days where you look in the mirror and your reflection is mottled, ruddy, freshly pimpled — the result of years of acne, irresponsible sun fun and possibly too much absent-minded skin picking? Me, too! 
Before writing about LED Light Therapy in-office treatments, which use LED light energy to "re-up" skin cells' function so that they act younger (meaning they self-heal more quickly and produce more collagen and elastin), I was intrigued by these powerful devices. After all my research, I quickly realized LED therapy could be the answer to a large swath of my skin woes, and I wanted to see for myself what all the hype was about.
But rather than trek to the dermatologist or an esthetician, I opted instead to try out three at-home, acne-fighting LED Light Therapy devices — typically while lying in the comfort of my own bed, listening to a podcast with my eyes squeezed tightly shut. It should be noted that, despite their fabulous convenience, at-home devices don't boast the same high-power output as an in-office LED Light Therapy treatment, so results can take longer to develop.
Over six weeks (and many podcasts), I tested Neutrogena Light Therapy Acne Mask, reVive Essentials Acne Treatment Light Therapy, and LightStim For Acne. Each device got my full attention for 2 weeks — here's what I discovered.

The At-Home Device: Neutrogena Light Therapy Acne Mask ($35)

Let's start with the obvious: This mask, which resembles a space-age welder helmet, is just plain cool to take selfies in (and perhaps post on Instagram). But beyond that, the Neutrogena Light Therapy Acne Mask is extremely easy to use — and if you're even the slightest bit lazy like me, that counts for a lot. You simply slip it on like you're wearing glasses (it contains a built-in eye shield to protect your peepers), hit the button on the AA-battery-operated Activator (which resembles a remote control), sit back and relax. Once you hit the button on the Activator, the interior of the mask illuminates and a hot pink pool of warm light covers your face for 10 minutes.
That pool of light comes from the inside of the mask, which contains blue and red LED lights, the former of which combat acne-causing bacteria and the latter of which speed up healing and boost collagen and elastin production. Together, the two lights are meant to target mild-to-moderate acne — i.e. blackheads, whiteheads, small pimples, and pustules — but not severe acne.

Each mask contains 30 sessions, which the Activator helpfully counts down. Be careful, though: If you hit the button by accident or decide to stop a session early, that session is now gone forever. Once all 30 sessions are done you can no longer use that Activator, but you don't have to throw away the whole mask — instead, you purchase a new 30-day Activator ($15). For me, Neutrogena Light Therapy Acne Mask scored high on ease of use, and I did notice that my skin seemed slightly smoother to the touch with less whiteheads after two weeks' of use. The redness in my cheeks remained the same, however; but I only cycled through 14 sessions and, for LED Light Therapy, how you've treated your skin in the past (say, sun-worshipping or skin-picking) does interfere with how quickly the results can happen. Overall, I can see myself making this at-home treatment a part of my skincare regimen for years to come.
The At-Home Device: reVive Essentials Acne Treatment Light Therapy ($49)
This affordable, pocket-size, portable gadget is built for LED Light Therapy on the go. reVive also makes a larger version in a handheld wand size, so this one might be considered its smaller cousin. Powered by either three AA batteries, a USB power source (your computer!) or a wall outlet, it really is made for those with mild-to-moderate acne who desire a hit of light in any situation or setting.

The device emits natural blue light energy in the 41nm spectrum to fight acne-causing bacteria. When using the handheld, you need to wear the included goggles and keep the light source distanced within ¼-inch of the area of skin you want to treat for a minimum of three minutes. No user settings or adjustments are included, though it will automatically shut off if it overheats.
Here's the thing: Remember how I said I was lazy? I'm not going to lie… the fact that I had to set my iPhone timer for three minutes to operate this properly added an inconvenient step. Also, holding the device steadily ¼-inch away from skin is not as easy as it sounds; my arm would get tired, which lead to me skipping out on treating all the areas of my face that needed it. I know; a small price to pay for great skin, but ease of use doesn't score high with this device. I also had a hard time removing the protective shield that covers the lights during storage. My solution was to not click it all the way back on after each use.
In the end, after two weeks of shining blue light on my face, I started to see less blackheads and whiteheads, but my cheeks still boasted redness and I was still sprouting one-off pimples.
The At-Home Device: LightStim For Acne ($169)
Another handheld device, LightStim For Acne combines blue and red LED light — using NASA's LED technology, no less — to heal existing blemishes, prevent future breakouts and quell inflammation and redness. A built-in three-minute timer dings when it's time to change treatment areas, which makes it easy to shift around your face without opening your eyes (provided eye goggles should be worn during treatment). And, because the brand recommends that you gently touch the light to your skin as you treat it, your arm doesn't get tired. Just saying.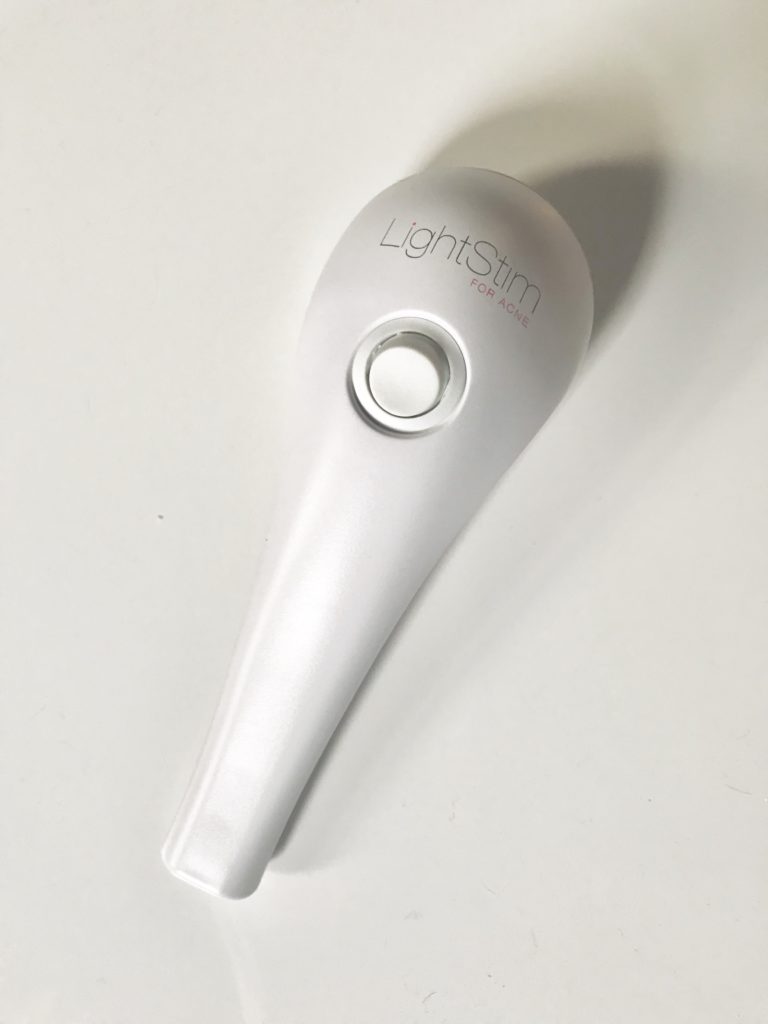 What's even more exciting about LightStim For Acne: It has a free app! The LightStim App allows you to track your treatment time, gives you skin tips and product suggestions, and provides access to customer support. Unfortunately for me, I had updated my iPhone to the newest iOS and the LightStim App hadn't been updated quite yet to support it. Bummer.
You know that redness I keep complaining about? After two weeks of use, LightStim started to diminish it. Yes, you could argue that it was the result of the culmination of undergoing LED Light Therapy for six weeks that is evening out my skin tone, but I should note that this device scores really high on ease of use as well as plumping my skin. I swear — I feel like the edges of my crow's feet are suddenly much less noticeable. Either way, LightStim For Acne, though a heftier investment than the other two devices, certainly provides the "light" for your buck.