I'll never forget the day a simple rash — or so I thought— turned into a life-changing medical condition. It was December of 2014 and my husband and I were adjusting to a new life near the Canadian border in New York. Although we had moved north from Fort Lauderdale into what happened to be one of the coldest winters the area had experienced in over a decade, I'd say we were adapting quite well.
At that moment though, life had thrown some curve balls our way. While we often hear that stress can negatively affect our health, I tried to brush off how stressed I was feeling and was determined to keep plowing through the difficulties that were in our path.
Then one morning, as I was literally pulling off my pants to get into the shower, I noticed a rash on the side of my upper thigh.
I honestly had no idea how long it had been there. When the temperature is in the teens, you don't see your skin very often — and when you shower or change your clothing, you do so in record time.
That year had marked 13 years since I was diagnosed with lupus, and though a "butterfly" skin rash can occur in some patients, it wasn't a symptom I personally struggled with. Plus, it usually appears on the face. My lupus symptoms revolved more around fevers, fatigue, small strokes, blood clots, and things of that nature.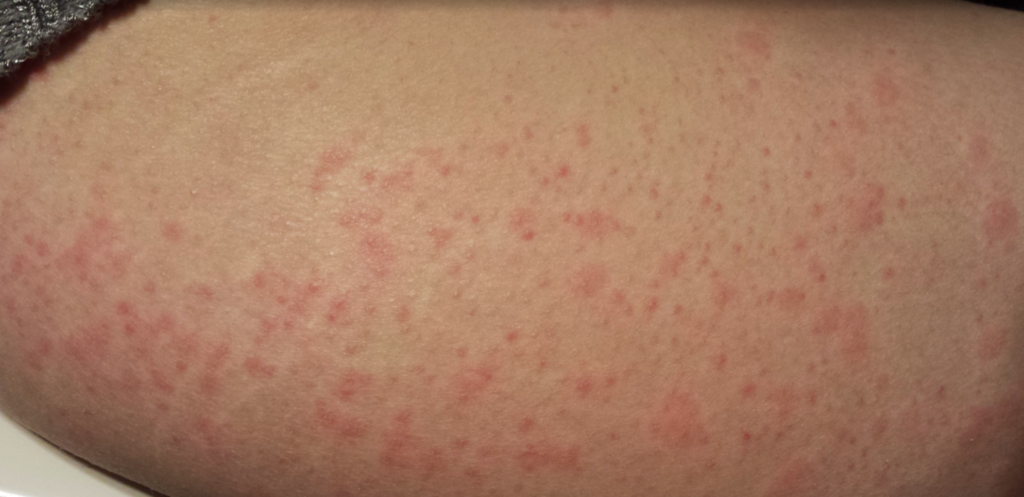 This rash I found consisted of small, flat, circular dots. Their cherry red color was a sharp contrast to my pale skin. Within a few hours, the rash began to spread down my leg, and by the next morning it became quite itchy and had erupted on my other leg as well. Though I had taken Benadryl, the rash continued to get worse.
Day three brought fear, as I removed my clothes early in the morning and stared at someone I didn't know.
My entire body was covered in hundreds of massive hives that ranged in size from a pea to larger than a quarter.
Some were so large they connected to one another, creating raised patches larger than my hand. The itchiness was now combined with intense burning. I also noticed something peculiar; if I stood up to walk, if I removed my clothing and cold air touched my body, or if I stepped into a warm shower, more hives would erupt.
I had never seen anything like it — movement, sweat, cold or heat was causing hundreds of hives to explode on my skin within minutes. Patches would move around my body, erupting on my feet, butt, neck, face… basically anywhere you can imagine. Moments away from a panic attack, I called my new allergist who I recently saw for food allergy testing and told them it was an emergency.
Within an hour, I learned I was having a urticaria outbreak. I, of course, had never heard of urticaria before and didn't understand why it was happening to me or how long it would last. Turns out urticaria can be broken down into two categories: acute and chronic. We learned I had chronic urticaria, with this particular episode lasting about eight weeks.

Understanding Urticaria, AKA Hives
The American College of Allergy, Asthma and Immunology estimates about 20% of people having urticaria, or hives, at some point in their lives. With acute urticaria, hives typically last anywhere from a few hours to days, and in some cases, up to six weeks. When hives last more than six weeks and migrate around the body in episodes, this is when they're considered chronic urticaria.
During the eight-week period of my outbreak, I never had a single day where my skin wasn't covered in clusters of hives.
I'd gotten hives before but not to this extent. It caused such fear because simple movements like sitting up in bed or going up the stairs triggered another eruption. There were mornings when I would wake up to my face covered in hives. I was instructed to sleep with an epi-pen set at my bedside in case the hives caused throat swelling. I won't even discuss the extra anxiety hearing that caused me…
What causes chronic hives?
The most difficult part was trying to determine the trigger. In fact, chronic urticaria is not well understood and the time frame for each outbreak is unpredictable. Physicians have recognized some common triggers such as hot or cold temperatures, stress, anxiety, certain medications or foods, alcohol, sun exposure, and in some cases, tight clothing. Even exercise, in which nerve endings can be stimulated, can trigger an urticaria outbreak in certain people.
Our best determination regarding my case was a combination of high stress and frigid temperatures, which at night, in upstate NY, were dipping into single digits or negative numbers. For eight weeks, I felt trapped in my bed, drastically limiting my movements for fear of causing additional hives to appear.
I was under constant treatment to try to get the hives under control. Typical treatment for urticaria might include Hydroxychorloquine – a malaria medication, monoclonal antibodies, steroids, and/or immunosuppressant drugs.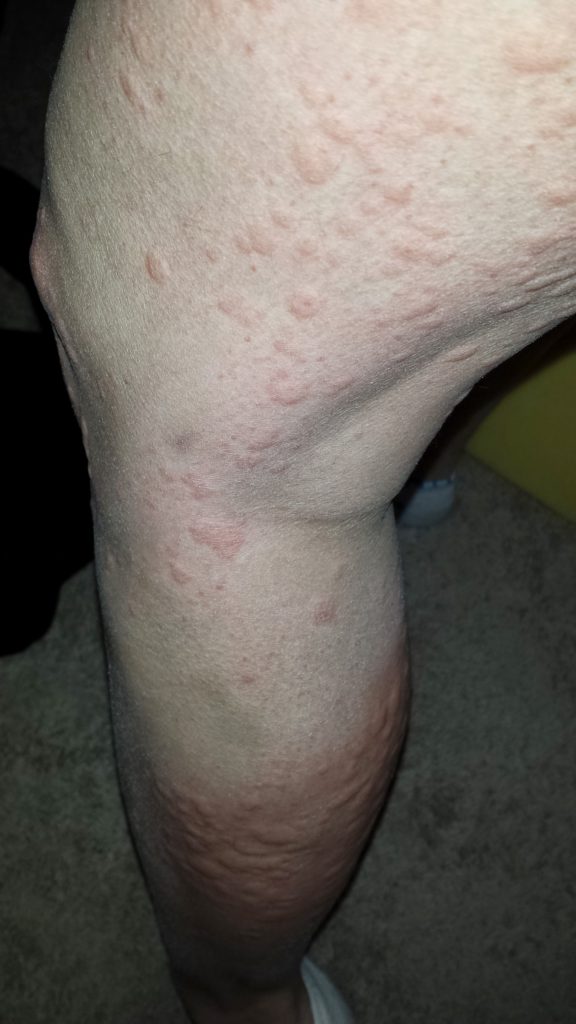 I already happened to be on an immunosuppressant for lupus, so my allergist added a high dose steroid for several months in addition to two Zrytec and two Benadryl tablets per day. Let's just say, I am thankful the drowsiness caused by the Benadryl won out over the surge of energy steroids often provide.
Living With Chronic Urticaria
Today, when I see the beginning of a urticaria outbreak, my doctor and I treat it immediately and aggressively. While the initial outbreak that winter frightened me, it also helped me gain perspective on the stressors that had been impacting me — I had a lot of time in bed to think about what had been happening in my life leading up to the outbreak.
My body was suffering as it was from lupus, another difficult autoimmune disease, and the added stress I was experiencing sent my body overboard. I made a difficult decision to let go of a high-stress journalism position and schedule time for self-care, something I wasn't implementing in my life at all.
Today, I regularly take a long, warm bath, go for a massage, or attend a restorative yoga class to help keep my stress levels down. I am also more cognizant of proper layering during winter and how much I add to my proverbial plate.
Chronic urticaria can be a lifelong issue for some people, while others will only have one or two flares in their lifetime.
If you are interested in learning more about this type of urticaria, read my How to Treat Chronic Urticaria article.