The internet is an endless abyss of information and, unfortunately, that means there's a ton of misinformation out there about acne. In this series, Debunking Common Acne Myths, we help break down some common misnomers about what does — and doesn't — cause acne.
Myth: Eating greasy foods makes me break out.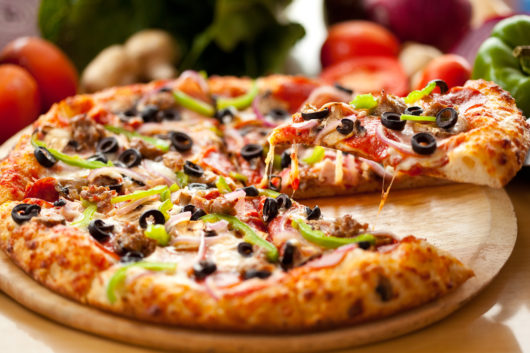 There are all sorts of claims out there — some true, some entirely false — about how much a person's diet really affects their skin. There's a lot that's still unproven and up for debate, but studies have proven that eating greasy foods does not increase your skin's oil production. Getting that grease directly on your skin, however (if it splatters while you're cooking, or if you touch your face while or after your eating) can clog your pores and cause pimples.
As for other dietary choices that may be causing breakouts, there's a lot that still needs to be researched. Studies have shown that dairy intake (specifically milk) does correlate with acne, and doctors and scientists believe this is because excess dairy can trigger hormonal changes in our body, which promotes inflammation and increases our skin's production of oil and sebum. The same is true for sugars.
Greasy and sweet foods — classics like pizza and chocolate — often get blamed for breakouts, but they may not actually be causing these pimples. So why have they been laden with blame? One theory is because many women crave these types of foods during their menstrual cycles. Our hormones always fluctuate during this time, which can also cause break outs. 
The bottom line: Everyone's body reacts differently to different foods. If you're breaking out there's no need to immediately switch to a vegan diet this moment. But, if you notice pimples cropping up when your diet is particularly dairy-heavy, try cutting back to see what happens. You may have slight allergies to certain foods that are causing your body to react internally. Or, opt for organic dairy and meat options, which have significantly less hormones.
In other words, feel free to eat that donut, chocolate bar or plate of fries when you're craving them — just wash your hands afterwards and, like everything, don't go overboard.
Learn the answers to other common acne questions:
Will having dirty skin cause pimples? Does washing your face several times a day clear up breakouts?
Is having oily skin a bad thing? Is all sebum bad for our complexion?
Do common household products clear up acne?
Is it true that spending time in the sun will clear up my zits?
Does working out and heavy sweating cause breakouts?