The signs of aging are inevitable — especially on our faces! Luckily for many people who want to prevent these signs from becoming too prominent, wrinkles and loss of fullness in the face can be treated. How? At your dermatologist's office using dermal fillers.
In 2017, there were nearly 2.7 million dermal filler procedures, making fillers one of the most popular cosmetic procedures out there (second only to Botox, with more than 7 million procedures). The American Society of Plastic Surgeons says that this is part of a trend towards patients targeting more diverse, specific parts of the body with surgical and minimally-invasive procedures.
But what exactly are fillers? What are the different types, and what's it like to get one? We've got all the answers here.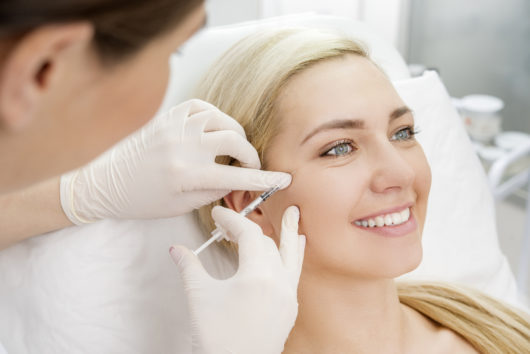 Why do people get facial fillers?
As the human body begins to age, the face loses fat and volume. This is a result of our skin losing its natural collagen and elasticity, which can lead to the appearance of sagging and hollowness. Older people start to see more pronounced lines, sallow skin and a loss of shape in their face. To counteract these aging effects, fillers were designed to reintroduce collagen and help the skin and face retain their shape and elasticity.
What are fillers, anyway?
In a nutshell, fillers are gel-like substances designed to combat the appearance of aging. Fillers get injected into the skin to add volume, smooth lines, and restore plumpness and symmetry in your features. Fillers can be injected for a myriad of reasons — to plump thin lips, soften facial creases, improve recessed scars, reconstruct deformities, and decrease lower lid/under eye shadows.
The FDA has approved a number of fillers with varying textures and densities. Some are called dermal fillers because they get injected into the dermis layer of your skin. Others, which are injected slightly deeper, are technically subcutaneous soft-tissue fillers.
Hyaluronic Acid (HA) Fillers
Commonly known as HA, hyaluronic acid is a natural component of the human body's connective tissues. It provides a foundation for collagen development and hydrates, lubricates, and stabilizes skin. Synthetic HA is more stable than the natural occurance, and the effects from synthetic HA injections may last from six to 12 months before the body absorbs the particles. HA fillers work well for superficial lines, lip plumping, and periorbital treatments, aka eyelid inflammation.
The most commonly known HA fillers are Juvederm and Restylane.
Poly-L-lactic Acid (PLLA) Fillers
A biocompatible synthetic chemical, PLLA stimulates our body's natural collagen production to create thicker skin. More permanent than HA (products can last up to two years), it may require multiple treatments and the effects come on more gradually.
Sculptra is the most common PLLA option on the market.

Calcium Hydroxylapatite (CaHA) Fillers
Naturally found mostly in our bones, CaHA creates a scaffolding-like effect that promotes collagen growth. It's thicker than HA, so you use a lower volume for the same effect. It tends to be used for deeper lines and wrinkles in the middle and lower facial area, and lasts about a year.
Most know CaHA treatments as Radiesse.
Polymethylmetacrylate (PMMA) Fillers
Tiny microspheres in bovine collagen are what make up PMMA, and these microspheres are what remain under the skin for our body to turn into a more permanent correction. Within three months, the collagen is replaced by our body's host connective tissue; in seven months, the implant collagen almost perfectly matches the surrounding tissue. This is a very technique-sensitive filler, and requires allergy testing.
Bellafill is a common PMMA filler.
Autologus Fat Injections (Liposuction)
In the case of liposuction, a surgical procedure involves transferring the patient's own fat from another area of the body. The patient's fat is purified, then injected. The procedure can be an ideal volume source for deeper lines and creases, but requires seeing a medical specialist with specialized training. Results can be long-lasting, but also unpredictable, lasting anywhere from six months to 10 years.
Where can fillers be injected?
Fillers are usually injected into targeted areas of the face and hands. They can be used to: smooth brows and crow's feet next to the eyes; under the eyes along the tear troughs; lift cheeks, temples, and lips; smooth the marionette lines between the nose and the mouth; soften the nasolabial folds (laugh lines); reduce vertical lip lines (between nose and mouth); soften chin wrinkles; fill in acne scars; reduce glabella lines on the forehead between the brows.
What are filler procedures like?
Which filler you should use is as important as technique, so choose an experienced, board-certified doctor who can give you the best possible advice. You may want to consider getting multiple opinions, and consult with whichever doctor you choose about any allergies, medications, or medical conditions that may have an effect on safety.
First, the area is mapped and marked, then cleaned. A topic anesthetic or numbing agent is used to minimize discomfort. The treatment itself takes anywhere between 15 minutes and an hour, which includes the injection, a massage, and an evaluation. Liposuction, or fat grafting, is an exception. While this is still an outpatient procedure, general or local anesthesia can be used and the procedure requires several weeks of recovery.
Recovery for most fillers differs based on the type of filler and where it's been injected. For most cases, patients are able to get back to their normal routine right away.
It's best to avoid physical activity for the first day or two to minimize swelling and bruising, though expected (temporary) side effects can include bruising, redness, swelling, pain, and itching. Uncommon, more serious effects, can lead to infection, lumps, and/or discoloration. While they're rare, scarring and vision loss can occur when filler is inadvertently injected into a blood vessel.
Opting for facial fillers can be a serious choice, but if you're interested in restoring your youthful appearance, dermal fillers may be the way to go. Just make sure you understand the risks and recovery issues, and get the most out of your procedure!