You've tried everything under the sun — dozens of face washes and overnight acne lotions, even the strongest over-the-counter spot treatments — but nothing gets rid of your pimples. Maybe you thought your acne would eventually clear up, so you resisted going to see a dermatologist, or believed with so many products on the market, something would work for your skin.
Feeling like your breakouts just aren't going to go away on their own? Since acne ranges from mild to severe, and has a tendency to fluctuate, it's hard to know when to enlist the help of a professional. Here are five signs that it's finally time to make that call.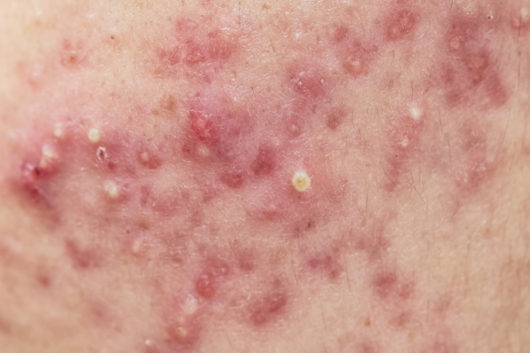 1. You've tried every over-the-counter remedy and they either don't work or have stopped working.
Does this sound familiar? You drop hundreds of dollars on drugstore acne products — buying a product, trying it, finding it doesn't work, and then buying another one. The cycle goes on forever, is a huge waste of money, and produces no results. In some cases, those products used to do the trick, but now you're noticing more and more breakouts. Maybe it feels like you're running out of options and you don't want to keep spinning your wheels.
If consistent use of over-the-counter treatments (and washing your face regularly!) is doing nothing for your acne, your next stop should probably be a dermatologist's office. They have access to stronger treatments and can prescribe medications, such as antibiotics, birth control pills, and topical retinoids, all of which can be effective alternatives when nothing else seems to work.
2. You're experiencing acne for the first time.
It's probably a good idea to check with a dermatologist if you've had clear skin all your life and are suddenly having moderate to severe breakouts (not just one or two pimples every once in a while). There are numerous culprits behind the unexpected onset of acne, including hormonal changes, diet, and increased stress levels. A doctor will ask the right questions to find the root cause, and then suggest solutions. It's especially important to consult with a dermatologist if you just started taking a new medication, or have had other major health or life changes.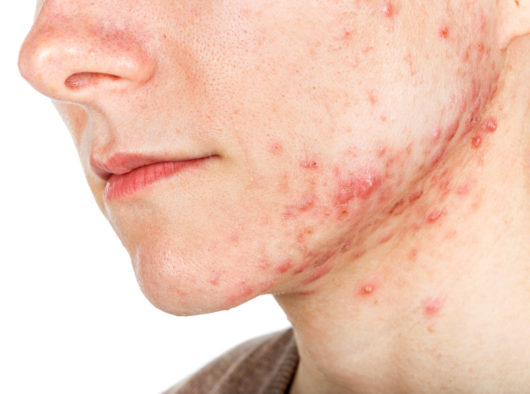 3. You have cystic acne.
Cystic acne is painful, inflamed bumps that begin deep under the skin. It's one of the hardest types of acne to treat, and rarely subsides without treatment. Cystic acne pustules show up on the face, chest, back, and arms, and can last for weeks. One of the biggest concerns with cystic acne is that it's likely to cause pitted facial scars. This is a big reason why it's important to see a dermatologist, who can help prevent further damage.
For those with cystic acne, a dermatologist sometimes injects a steroid directly into the pimple, which helps to calm the inflammation. Unfortunately, this is a temporary solution, but it does buy time for you and your doctor to find a lasting treatment. Because over-the-counter products are typically ineffective for cystic acne, treatment usually involves antibiotics, birth control pills or other prescription medications.
4. You're worried you may have an underlying condition that's causing you to break out.
There are inflammatory conditions, such as Polycystic Ovarian Syndrome, or a rarer condition called SAPHO (Synovitis, Acne, Pustulosis, Hyperostosis, and Osteitis), which can cause acne or make acne worse. Dermatologists are trained to recognize these conditions and refer patients to specialists, who can then properly treat the underlying issue. Specialists include endocrinologist (a doctor who treats patients with hormonal imbalances) or rheumatologist (a doctor trained in systemic autoimmune conditions), in addition to a dermatologist. With proper intervention, many patients see a decrease in acne.
Sometimes other skin conditions, like rosacea or keratosis pilaris, can be mistaken for acne — if your skin is chronically red, swollen, itchy or otherwise uncomfortable, it's probably time to make an appointment with a specialist. Dermatologists know how to determine what's going on with your skin and then navigate the next steps.
5. Your acne is severely damaging your self-esteem.
Every time you look in the mirror, do you feel miserable about how you look? Have you lost hope that your skin will ever be clear again? Ask yourself if you are turning down invitations to social events, avoiding mirrors, and not allowing yourself to be photographed because of breakouts. These are signs that acne is significantly impacting your self-image.
The emotional effects of acne are often minimized because the condition is so common and therefore seen as an easily fixable, harmless problem. But the truth is that severe acne can lead to anxiety, depression, and other mental health issues. Because acne primarily shows up on the face — the first thing people tend to see — it makes people feel embarrassed and ashamed of the way they look. Over time, this destroys self-confidence and leads to a diminished quality of life.
The bottom line.
Ultimately, if you feel like your acne is severely impacting your life, or a chronic issue you can't control on your own, don't try to manage it alone. Dermatologists are specifically trained to treat skin conditions and can absolutely help treat your acne — no matter how severe. And when it comes to deciding when it's time to see a dermatologist, trust yourself. If you feel like it's time, it's probably time.