When you have acne-prone skin, your foundation needs to perform a delicate balancing act. On the one hand, it needs to be light enough to not further exasperate your breakouts, and on the other, it needs to be full-coverage enough that it tones down redness and evens out skin imperfections. And, of course, an even more ideal formula will quell oiliness and reduce the need for touch ups.
Are these foundation hopes and dreams just too much to ask for? Are foundations for acne-prone skin just the mythical unicorn of the makeup world?!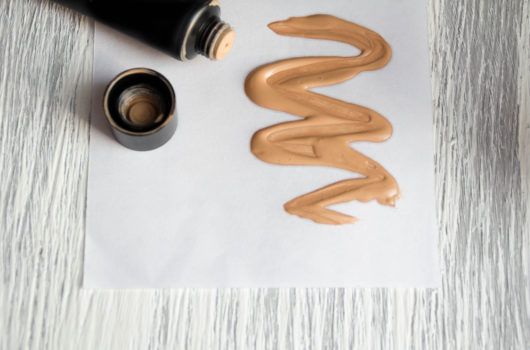 No, they're not! Great foundations for acne-prone skin DO exist!
We're here to tell you that no matter your frustrations with your current formula, foundations do exist that meet the challenging criteria for acneic skin — and we've found them for you. But before you dive into our foundation picks for acne-prone skin, we want to prime you on what you should be on the lookout for in formulas aimed at acne.
The "noncomedogenic" label doesn't necessarily mean the formula won't block pores.
If you suffer from acne, you're likely familiar with the term "noncomedogenic." This moniker means that a product has been specifically formulated to not clog pores. However, the reality is that this term is entirely unregulated in the cosmetic industry. AKA, with no guidelines in place any manufacturer can claim any product to be noncomedogenic — even if said product is thick, goopy and spackle-like.
The lesson here: If the label boasts it's noncomedogenic, test the texture of the formula before you buy it. Feels gloopy and thick? Move on to another foundation — stat.
An "oil-free" label doesn't guarantee the product is devoid of oils, either.
Oh, come on! We know. But the truth is, ingredient lists don't always list traditional oils, so some could be lurking in a supposedly oil-free formula. On the flip side: Other ingredients besides oils can cause your face to feel greasy, so oils aren't always to blame. So, what should you do? To be on the safe side, choose an oil-free formula, but check the ingredient panel. If the first ingredient listed is water, you're good to go.

Toss aside fragranced formulas …
Seriously, you don't need your foundation to smell like roses, so its best to ditch any scents — these types of ingredients can increase breakouts and oiliness. Especially since "fragrance" doesn't need to be specifically identified on labels, so it can literally contain dozens of toxic chemicals.
… and nix formulas that contain alcohol, too.
Alcohols (like cetearyl or oleyl) can dry out skin, which in turn can cause skin irritation and flare-ups. Alcohols also cause white heads and blackheads to develop.
Stick to liquid, loose mineral and powder foundations.
This means: Ixnay on the stick or creamy compact foundations; the reason being that in order to ensure these products remain in solid or semi-solid form, certain ingredients are added that tend to exacerbate breakouts.

What you should look for:
For liquid foundations: Seek out water-based, mega-lightweight formulas that allow for buildable coverage in thin, even layers.
For powders: Try mineral-based powders or loose powders that tend to not clog pores due to their larger particle size — which also makes them great for full-coverage finishes.
Whether you choose liquid or powder, look for matte finishes that promise to control oil. The benefit of these formulas is that they likely last longer than their creamier counterparts, meaning less touchups, which equals less need for patting on more product throughout the day.
Beauty companies are increasingly adding zit- and/or bacteria-fighting ingredients, like salicylic acid, witch hazel and tea tree oil, to their acne-aimed foundations, so it's good to lookout for those options.
Lastly, are you cleaning your makeup brushes (or sponges!) regularly?! Do you know if you're washing them properly?? These moist, makeup covered tools are the perfect place for bacteria to live, and if you aren't taking care of them properly, they are likely making your acne worse.
Ready to find the best acne-fighting, blemish-covering foundation for your skin tone?! Click through to our product story for all the formulas we love!