If you're in your 20s (or younger!) here are two words you should think about whenever you lay eyes on your skin (which, lets be honest, is daily): proactive and prevention. As almost all skin professionals will attest, it's never too early to start taking serious care of your skin — and your 20s are a great jumping off point. Start now and you're setting yourself up for a lifetime of radiant skin.
One way to get your skin primed for later-stage gorgeousness? Book facials regularly! Seeing an esthetician can do wonders for your complexion. Read on for all the reasons why you should partake in professional facials in your 20s. (Hint: All of them have to do with prevention!)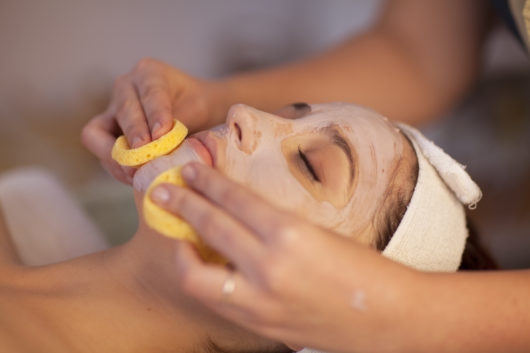 Your Oil Glands Are Active
Your 20s are filled with activity—and not just the fun, going-out-on-the-town kind. The reality is that during this decade of your life your oil glands are incredibly active and, as such, they tend to clog pores and cause breakouts more frequently. By setting up a schedule of regular facials, not only can you safely keep your skin gunk free, but also you can help prevent more serious conditions from developing, such as permanent acne scars and hyperpigmentation due to picking. Unfortunately, as you age these conditions will only worsen as your skin loses its ability to repair itself (more on that below).
Your Pores Stretch Over Time
Gross, we know, but it's true: If you're prone to blackheads, these skin-cloggers will stretch your pores over time. The longer the blackheads stay snug in your pores, the greater the chance they'll enlarge them. And while we hate to be the bearers of bad news, once pores have expanded, they don't shrink back down.
The good news: If you commit to regular, professional extractions early on, you give your pores the opportunity to retain their nice, tiny shape.
Why, you ask, doesn't an at-home mask or a pore-cleansing strip do the job? They're so relaxing, and let's be honest, it's pretty fun looking at all the grime they pull from pores… Sadly, as great as these at-home products feel and can be, they will never fully remove all the gunk that's jammed into your pores. Seeking out a pro's safe extraction methods not only successfully rids your skin of more blackheads, but also will ease the temptation to perform your own zit popping, which can lead to inflammation and scarring.
Your Skin Is Aging
Sorry, 20-Somethings, but it's true: That slow march toward old age is happening to you as you read this sentence. Though you may not be witnessing fine lines and sun spots, your skin is already having a harder time bouncing back from any trauma (think: skin picking, acne, sun damage, drinking, smoking — the list of grievances goes on). But, routine facials can help detoxify skin, extending your complexion's resiliency well beyond your 20s.
They Feel Amazing
You're likely working extra hard to pay off your student loans and make sure all your bills get paid, probably trying to balance a relationship, seeing your friends and a new career. Taking some time — even if it's just an 75 minutes once a month — to let an esthetician cleanse, degunk and massage your face can be incredibly relaxing. We're all about advocating for self care, and facials aren't just great for your complexion, they're equally relaxing and rejuvenating.
You'll Pay Less Now Rather Than More Later
Because you're in your 20s, you may be balking at investing money in routine visits to the spa. We get that. But chew on this: Exercising caution early (read: now) may stave off or completely eradicate having to get more costly and invasive procedures later on. That fact, plus a gorgeous complexion that will look younger longer, is worth the upfront investment! There's your prevention!
Convinced? Wondering what a professional facial entails? Check out our story about every detail about what it's like to see an esthetician for the first time!