Freshy glowing complexions, sturdy nails, and strong, healthy locks are huge cosmetic priorities for many people, so it's no wonder vitamin and supplement blends are so popular. But do you know what those hair, skin, and nail supplements actually have in them? Who should be taking them, and are they actually effective? We've got answers!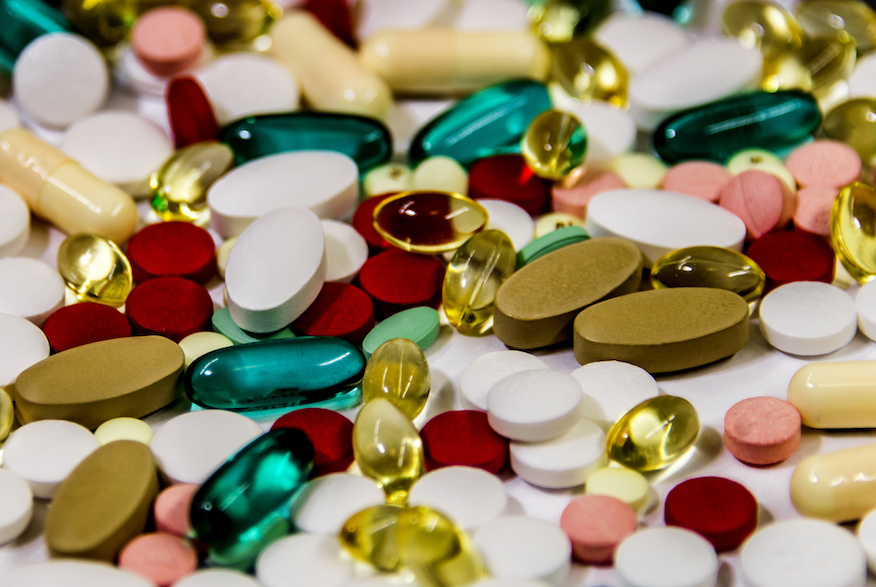 So What Are Hair, Skin, and Nail Supplements?
Our hair, skin, and nails all have one thing in common — keratinocytes. Keratin is a protein that's created by our body. On our skin, it creates a protective barrier to protect our largest organ (and really, our entire body) from the elements and other external threats. Our hair and nails are made up almost entirely of keratin.
In order to keep our keratin, and its source, healthy, the body requires certain vitamins and minerals. Enter hair, skin, and nails supplements to help get the job done.
Most formulas contain a blend of natural antioxidants, namely vitamin A, vitamin C, and vitamin E. In addition to these standbys, many brands bulk up their formulas with fatty substances such as fish oil, which contains Omega 3 and can help improve brittle hair and nails or increase your hair's shine. Collagen is another common ingredient, as it helps with the cell renewal process, and can contribute to the elasticity and strength of our body, including our hair and nails.
Many brands will also include essential repairing minerals, like manganese, selenium, and niacin, all of which are also suggested when aiming to keep acne-prone skin under control. Perhaps the biggest heavy-hitter of the bunch, however? Biotin, and other B vitamins, which are commonly used to help people struggling with hair loss.

But… Do We Really Need Supplements?
The world (and beauty industry) seem to be split on this issue. There are many who firmly believe no, you probably don't need these types of supplements, and that's because most people ingest enough of these vitamins in their basic daily diets anyway, so adding more will likely not make much of a difference.
That said, many others swear by the effects and benefits of including a vitamin-rich supplement in their diet. Denver-based hair stylist Sam Labella makes a case for supplements rich in certain ingredients, especially if your hair and nails don't seem to grow very fast. "I have found that collagen, as well as biotin, can be very helpful when clients need help with slow-growing hair," she says.
Some people who have deficiencies in certain vitamins and nutrients could also stand to benefit from the added boost. According to this article from Consumer Reports, if you find yourself on antibiotics often, or take anti-seizure medication, you might notice hair thinning, breakage, or even loss over time. A biotin and vitamin-based supplement could certainly help with those issues!
Okay, But How Do I Find the Right Hair, Skin or Nails Supplements for My Body?
Shopping for hair, skin, and nail vitamins can be a daunting task if you don't know what to look out for, but these simple tips to keep in mind can make shopping for supplements a simple task!

Find the right formula.
Most vitamins and supplements are pressed into pills for convenience sake, but your choice will go further with a loose, unmanipulated formula. "Look for liquids or powdered versions as your body will absorb more than with a pill," suggests LaBella. These versions may also contain fewer fillers, like sugars, gelatin, or corn syrup.
Know your ABC's.
Supplements can boast a wide variety of ingredients that will supposedly work wonders on your skin and hair fibers. You may find it best to keep it simple by looking out for products containing vitamins A, B, C, and E. All of these vitamins are rich in antioxidants and work to stimulate cell turnover and growth.
Look for the right fats.
Healthy fats arrive in the form of oils (remember that fish oil and omegas we mentioned before?). Foods such as flaxseed, fish, avocado, and coconut (or supplements that contain these foods) can provide protection for weak hair, skin, and nails.
The Bottom Line
Supplements are a great way to boost your bod, but, reminds LaBella, "nothing compares to caring properly for your existing hair." What are the best ways to do that? Keep heat and chemical treatments to a minimum, allow for some time between washes to prevent over-drying, ditch the synthetics bristles for brushes using natural materials, and treat your hair to a nice, indulgent conditioning every now and then to minimize breakage, and strengthen those strands.
Taking care to incorporate foods containing your daily recommended dose of A, B, C, and E vitamins can go a long way in maintaining hair, skin, and nail health. Our favorites include sweet potato, nutritional yeast, citrus fruits, and almonds, but do a little research and create what's best for you!