As much as I love hunkering down at my computer all day, every day, it's always fun to have an excuse to leave the office and experience one of the treatments I write about. On this particular Friday, I was scheduled at Illuminate Face & Body Bar, a brand new medical spa that's just down the street from me in Brentwood, a trendy neighborhood of Los Angeles.
I was all prepped and ready to experience my first IPL treatment — I'd heard these lasers could be amazing for pigmentation and scarring, and was so excited to try out my first laser treatment after writing about them for so long.
I know, you thought you were here to read about the HydraFacial. I'll get there. But first, let me walk you through my experience at Illuminate.

It's Spa Time!
I checked in at the front desk and filled out a very extensive survey (luckily it was on an iPad!). I actually really appreciate when a spa or esthetician asks me lots of questions about my skin — it makes me feel like they're really going to pay attention to my concerns, and do their best to treat my skin in the best possible way, since everyone's complexion is so different.
Let the treatment begin…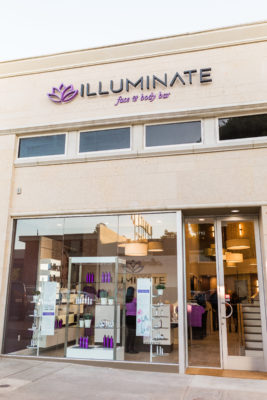 When I sat down with my nurse practitioner, Mary, she asked what my main skin concerns were. When I told her I was sick of feeling self-conscious about the hyperpigmentation on my checks that was left over from a severe bout of hormonal acne at the start of the year (hey, I may be a beauty editor but I have skin issues too!), she nodded in understanding, but I could see a look of hesitation on her face.
"I don't think IPL is for you," she said. She could probably see my face sink immediately.
Another thing I really appreciate about a skincare specialist? When they're honest with you. If you're a patient who's forking over hundreds of dollars, the worst thing is to feel like they're trying to just make a sale. Mary told me that honesty is always her policy, and that's something I really value as a patient.
What Mary did recommend for my skin was a chemical peel. As a skincare writer, I'm familiar with all sorts of chemical exfoliants, but I'm used to using them in small, over-the-counter quantities that are gentle on my skin. What she was talking about were those robust, watch-your-entire-face-peel-off-in-chunks chemical peels, and I was definitely not mentally prepared for one of those… at least not yet.
HydraFacial saves the day
My wonderful freelance writer Christina had just written a story all about the HydraFacial, so the topic was on my mind when I spotted a machine next to the treatment table. Mary noticed my interest and was happy to oblige — I'd get a mini HydraFacial experience, then schedule a chemical peel for a week when I could hide out… and mentally prepare myself for a full on shedding.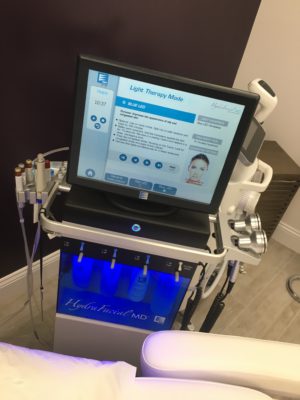 I lay down on the treatment table and Mary booted up the HydraFacial machine. Not going to lie, it sounded like a very serious piece of equipment once it started humming and buzzing, but as soon as my treatment was over I understood why!
Mary started with the Vortex Exfoliation tip, which helps to cleanse the surface of the skin. The HydraFacial machine has several different heads, or tips, which act like a little vacuum cleaner on your skin, sucking up all the dead cells, and then injecting fresh cleanser, hydration, or serum into your pores, depending on which stage of the facial you're in. The feeling on your skin from the HydraFacial wand is very unique — almost a combination of someone dragging an intense suction cup across your face, with an added tingling sensation that almost felt like tiny pricks. It definitely wasn't painful, though there were a few moments (mostly around the edges of my nose) where it was more uncomfortable, but otherwise I was totally comfortable and relaxed, it just felt… different.
Next up was an exfoliating serum, which is filled with both glycolic acid and salicylic acid, two fabulous chemical exfoliators. The Vortex Extraction is the next step, and that serum also has glycolic to help really clean out your pores from blackheads, bacteria, and dead skin cells, aka the ingredients for acne.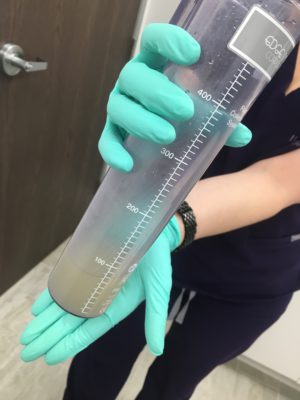 As an added bonus, Mary used the system's Blue Light LED wand on my face for several minutes. LED light therapy is no miracle worker, but it is clinically proven to improve fine lines and wrinkles and banish acne-causing bacteria, so I was happy to have this bonus addition to my treatment. The wand felt slightly warm — Mary placed an eye protector over my lids, then held the light on the main areas of my face for a few minutes at a time, which was very relaxing.
The last step was a hydrating serum, and this was definitely my favorite part. I could feel how open and clean my pores were, and the serum felt cooling and refreshing on my newly cleansed skin. Plus, Mary told me it's filled with hyaluronic acid, which is one of my favorite hydrating ingredients. She applied a soothing eye cream and hydrating moisturizer, and I was on my way!
The aftermath
As soon as I picked myself up off the treatment table (it was a bit of a challenge considering how relaxed I was snuggled underneath a fuzzy blanket) I could tell my face was 10x cleaner than it had been in quite a while.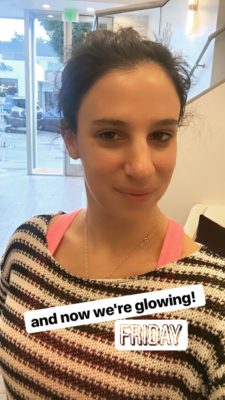 Was I ready to take a million selfies and flaunt my new, dewy skin? Not quite, but I did take one! I was, however, very ready to meet an old friend for a drink at my favorite neighborhood bar. As soon as she arrived and hugged me she said "Wow, your skin looks great!" — and she didn't know I'd just come from Illuminate, so it must have been genuine!
The next day I did notice my skin was a bit dry and flaky in some areas (mostly around my nose and on my T zone) so I used my favorite facial exfoliator (Eminence Organics Strawberry Rhubarb Dermafoliant with Lactic Acid)  and a heavier moisturizer (IS Clinical Youth Intensive Cremé) and made sure to apply my favorite moisturizer with SPF for protection and some extra hydration (SLMD's Daily Moisturizer).
Now that it's been a few days, I can really feel the difference in my complexion. My face feels clean and hydrated — in a way that I couldn't have obtained on my own, even with my very full arsenal of skin products thanks to my years as a skincare editor (yes, I know I'm #blessed). I'll definitely consider another HydraFacial next time I book an appointment with my esthetician.