Ready to join the wonderful world of seeing a skincare specialist? Whether your dermatologist recommended you get a facial or you heard a friend gushing about how much she loves her esthetician, facials are incredible for your skin, and should be a regular part of your routine. But before you make your first appointment, you probably have a few questions. What does a facial actually entail? Do I have to go to a doctor's office or an expensive spa to get one? How do I prepare for a visit? Have no fear — we've got answers for you!
What is a facial? Simply put, a facial is a multi-step treatment created to clean, exfoliate, nourish and treat your skin. The goal of any facial is to improve your complexion, which for many means looking younger, dewier and more vibrant. Because an esthetician is armed with a multitude of masks, serums and cleansers and takes an extensive, in-depth look at your skin (most appointments are between 30 and 80 minutes!), they can help clean and treat your face in a way that you simply cannot do yourself. Facials are also a profoundly relaxing experience that have the potential to become the most amazing part of your skincare ritual.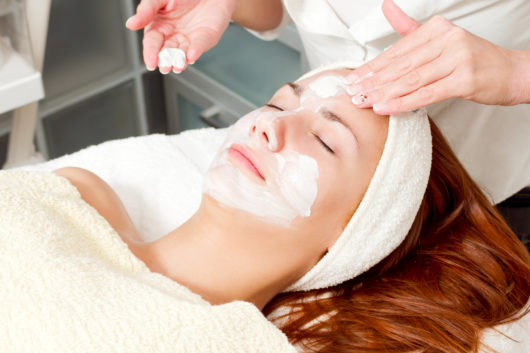 Okay, I'm convinced. How do I find a place to get a facial? Estheticians will either work out of a dermatology office, skincare studio or spa. Typically, a studio will just have rooms with treatment beds, whereas a spa has a communal locker room and some amenities, such as a steam room or sauna. For a truly relaxing and skin-changing experience, it's important that you find the right combination of a comfortable, well-run business and an educated, personable esthetician.
For starters, ask around. Word of mouth referrals are the best way to find a trusted spa or esthetician. A simple Google or Yelp search is another great place to start! If price point is a factor, keep in mind that independent estheticians who share studio space often charge less than estheticians who work directly within a spa.
Choose an appointment that will allow you some free time afterwards, in case your skin needs some downtime to recover. When you make an appointment, let the receptionist know it's your first facial. Request a consultation, so you can sit down to chat with your esthetician before she pulls out any products.
Alright, my appointment has been made. How should I prepare?
For starters, keep your routine normal. You may feel inclined to take some extra steps to get your skin in good shape before your treatment — sort of like brushing and flossing your teeth a few extra times before you head to the dentist. But in this case, extra prep actually puts you at a disadvantage. Sticking to your regular routine allows your new skincare provider to see the actual, everyday condition of your skin, which helps them to more accurately diagnose and analyze your skin.
In the days leading up to your appointment, identify a goal for your facial. Do you want to target your acne? Get rid of stubborn dark spots? Eliminate all those pesky blackheads? Feel like your skin is softer and more hydrated? Having a goal (two or three is fine too!) when you meet with your esthetician will help them target the products they use accordingly.
Start to think about any questions or concerns you have about your skin. Create and update a note in your phone as questions pop into your head. That way, by the time you walk into the treatment room you'll have a physical list you can look at — it's practically impossible to suddenly remember all those odd questions that pop into your head in the shower or as you're working out!
It's also a good idea to make a list of all the facial products you use — write down their names and active ingredients in case your esthetician isn't familiar with them. Not only will this help you familiarize yourself with what you're putting on your skin, it will also allow your esthetician to identify any holes in your routine, or any problems caused by products you're using.
It's time to show up! What can I really expect to experience?
Upon arrival, you should fill out a waiver and consultation form. This will be the place where you write down your skin concerns, the goal you prepared and any allergies or medications you may be taking.
Before you get onto the treatment table, your esthetician should have a consultation with you about what you wrote on your form and any other questions you have. This is the best time to pull out that list!
Next, the esthetician will leave the room and you'll undress – either completely, just in your underwear (make sure you take off your bra though!) or into a robe, which the spa will provide.
The steps of a facial are called a protocol. Every facial protocol should start with a cleanse that will remove makeup and any oil or dirt that accumulated throughout the day. Then your esthetician will likely look at your skin under a light and/or magnifier so they can see your pores up close. The steps that follow will be customized, either per your esthetician and the products they believe will best treat your skin conditions, or based on the type of facial you selected and paid for.
Typically, facials will involve multiple cleanses, an exfoliating mask or peel, extractions, a secondary hydrating or cooling mask, a facial massage and the application of a serum, moisturizer and SPF. Most estheticians will also perform relaxing hand, arm, neck or shoulder massages as your masks set. If you've never had a facial massage the concept may freak you out, but estheticians are specially trained to massage our facial muscles. Let them work their magic as they cleanse and hydrate your face — not only will it relax you, it will help to plump your skin!
I'm relaxed, my face feels rejuvenated and my pores are finally unclogged! Now what?
You may be basking in your relaxed state and gloriously clean skin, or you may look in a mirror and freak out that your skin is quite rosy – maybe even redder than it was before your appointment. This is completely normal: your skin just got a ton of focused attention and may have been exposed to several new ingredients. Don't succumb to the urge to reapply makeup or add other products. Instead, enjoy the hours after a facial — your skin is in a rare, cleansed form, breathing and soaking in the benefits of the special treatment it received.
A good esthetician will also provide a thorough explanation of what to do in the hours and days after your treatment, and suggest a followup time frame. Listen to her advice — she's an expert!