When the weather gets warmer, while some of us may start planning how to achieve that perfect summer glow, there are some of us that have already been blessed with a natural tan. However, while darker skin tones tend to tan more easily, thanks to its higher melanin content, those with darker skin are certainly not immune to the damaging effects of UV rays. At the end of the day, any skin overexposed to the sun can result in burns, premature aging, dark spots and at worse, skin cancer.
Multiple sources, including a study entitled "Racial Disparities in Melanoma Survival" published in the Journal of the American Academy of Dermatology last year, found that patients of color, particularly African-Americans, were more likely to develop aggressive forms of skin cancer. They were also more likely to be diagnosed at later stages, taking away opportunities for earlier treatment. And despite African-Americans having lower incidences of melanoma than whites, this group had the shortest survival times and rates of survival after diagnosis of Stage II-IV of the common form of skin cancer.
"Our results suggest that more emphasis is needed for melanoma screening and awareness in non-white populations to improve survival outcomes," the study authors concluded.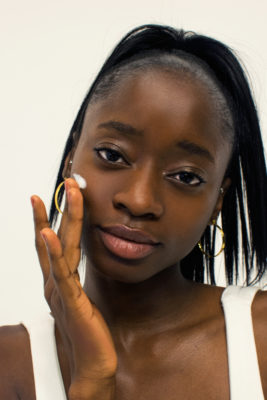 In other words, it's a myth that brown-skinned men and women don't need sun protection. Yet 63% of African American survey participants said they never used sunscreen. Although darker-skinned women may have experienced very few sunburns — if any — compared to their lighter-skinned friends, it's possible that they never incorporated sunscreen application into their daily routine.
"Anyone can get skin cancer, regardless of their race," explains dermatologist Maritza L. Perez, a senior vice president of the Skin Cancer Foundation. "Ethnicity doesn't define skin type. Instead, it represents a wide range of skin tones with a wide range of risks."
The best practice for avoiding the various severities of sun damage? Prevention — and it's never too late to begin incorporating a sun protection regimen into your daily routine. Here are a few good habits to incorporate.
Know your number
Even for those with brown skin, leading dermatologists still suggest a sunscreen with a sun protection factor of at least 30. Skin Cancer Foundation experts have made it easier for everyone by awarding top products — from sunscreens to cosmetics to moisturizers — with their Seal of Recommendation. A database on the foundation's website lets users find the best sun protection items for their needs based on specifically selected categories.
Find a fitting formula
Traditional sunblocks (now called physical sunscreens) can leave a white, filmy cast that looks less than flattering on any skin tone, but a shock of white against a brown background makes that white film even more noticeable. Luckily, more companies are developing clear, oil- or water-based formulas that don't leave any residue. Most skin care lines — from drugstore to high-end companies — offer a daily moisturizer that includes SPF, eliminating the need for a second layer in the morning. A foundation containing SPF – in the right shade of brown – can also do the trick. We love this list from Byrdie with 10 great recommendations.
Apply astutely
Sun protection should be applied between 15 and 30 minutes before going outdoors, then reapplied every two hours. Wearing makeup and don't want to mess up that perfect contour? Opt for a powdered sunscreen instead. And remember: if you're swimming or participating in an activity that generates sweat, make sure you reapply immediately after you've dried off.
Take your vitamins
Those with more melanin are actually more likely to be at risk for Vitamin D deficiency. Although the best source of Vitamin D is the sun, the American Academy of Dermatology recommends a Vitamin D supplement for people of color; soft gels can be found in most drugstores.
Seek out the shade
By all means, enjoy the sunshine, but you can also dress responsibly and stylishly for the sun by wearing wide brimmed hats and oversize sunglasses, which help to protect delicate skin around the eyes and on the face. The sun is strongest between 10 AM and 2 PM, so try to avoid as much direct sunlight as possible during these hours. And if you are outdoors during times of high sun rays, take breaks and find some shade whenever possible.