Pretty much everything coconut-related is trendy right now, and you've probably heard about the health benefits of using coconut oil in cooking, but did you know that it's also a great ingredient for your skin? Read on to decide if it's time for you to jump on the bandwagon.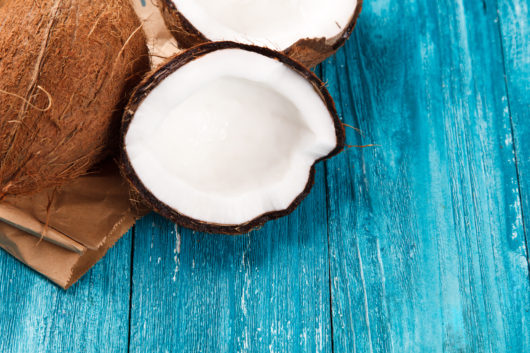 What is coconut oil?
Coconut oil comes from the nut's "meat," aka that white lining inside the coconut. When pressed, this meat expels an oil that's high in healthy fats. Coconut oil is solid at cool or room temperatures and melts into a liquid when warm. Abundant in vitamin E, lauric, capric, and caprylic acids, these skin-loving ingredients makes coconut oil a no brainer when it comes to skincare.

What forms does coconut oil come in?
Coconut oil benefits the skin from the inside out and the outside in. The antioxidants found in coconut oil protect you from the free radical damage that causes aging, both when ingested and applied topically.
You can buy coconut oil in most grocery stores. Many use it on their skin straight from the container, but if you're going to do this is it's best to opt for organic, unrefined options because these will still contain all the good nutrients and minerals from the natural oil. Coconut oil has become a popular ingredient within premade skincare products, including lotions, cleansers, anti-aging creams, lip balm, and face masks.
How does coconut oil work in skincare?
Coconut oil is nature's moisturizer. The hard-hitting ingredients, like vitamin E and plenty of fatty acids, prevent skin from losing water, keeping you hydrated all day. It's frequently used on both the face and the body because it penetrates deeply into the inner layers of skin without leaving a greasy residue, like other oils.
The antioxidants in coconut oil protect the skin from damaging free radicals, and repair the skin when exposed to toxins. It's also naturally anti-inflammatory, antibacterial, and antifungal.
It seems counterproductive, but coconut oil can also be used as a facial cleanser. The healthy oil dissolves the sebum, or pore clogging oil, by reaching deep into pores to draw out dirt and other bacteria. Bonus: you can skip a step, because coconut oil acts as a cleanser and a moisturizer.
Unconventional uses of coconut oil include removing makeup, treating dandruff, and reducing the appearance of stretch marks. Coconut oil provides mild sun protection, but should never be used instead of sunscreen.
Who benefits from coconut oil in skincare?
Almost everyone can benefit from adding coconut oil (or products containing coconut oil) into a skincare regimen. It's most beneficial for people with dry or aging skin, and there have also been reports of success in people with eczema and psoriasis, because of the anti-inflammatory properties.
For people with acne, using coconut oil on the skin might seem like a dangerous proposition. We know putting oil on your skin seems counterintuitive, but the capric and lauric acids in coconut oil are antimicrobial, which help to eliminate the bacteria that cause acne. However, coconut oil is one of the heavier oils, so if used in high doses it can clog pores, so it's important to remember that a little goes a long way.
Want to try out coconut oil? The SLMD Facial Moisturizer contains coconut oil, to keep skin bacteria-free and hydrated during the day.