This Australian tree is not just the preferred snack for the koala bear —it can also do wonders for your skin! More commonly known as a remedy for respiratory issues, the potential skin benefits of eucalyptus should not be overlooked.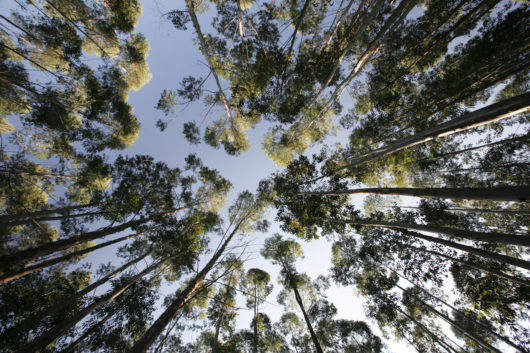 What is eucalyptus?
Eucalyptus is a tree native to Australia, but it also grows in parts of China and India. Today it grows all across the world, as it's a relatively invasive tree species. For medicinal purposes, eucalyptus oil is extracted from the leaves of the tree. The active ingredient is eucalyptol, also known as creole, which is a colorless, oily liquid with antiseptic properties. Eucalyptus oil also contains antioxidant flavonoids and astringent "tannins" that are common in other healing plants, like witch hazel.
Products containing eucalyptus usually have a cooling, refreshing effect on the skin. The scent is described as woody, minty, and sweet.
What forms does eucalyptus come in?
You can find eucalyptus as an ingredient in many skincare products. There are eucalyptus lotions, foot creams, facial cleansers, sprays, and masks.
It's also available as an essential oil. Before applying to the skin, eucalyptus oil should be diluted because it can be very potent. Try using with a carrier oil (such as jojoba or almond oil) and testing it out on a small patch of skin.

What makes eucalyptus such a powerful skincare ingredient?
Eucalyptus is known as a healing tree — it's one of the strongest antibacterial, antiseptic, and antifungals available in nature. Considering it's also an anti-inflammatory, eucalyptus is ideal for healing minor wounds, burns, boils, cuts, and scrapes. In addition to soothing inflamed skin, using a eucalyptus ointment prevents further infection or irritation.
If you have an itchy bug bite, eucalyptus is great for calming the urge to scratch — plus, it's a great insect repellent!
If you weren't already convinced of how fabulous eucalyptus can be, your scalp can also benefit from the tree's oil! Some dandruff shampoos contain eucalyptus oil because of its antibacterial properties, and because it's also thought to stimulate the hair follicles.
Who benefits from eucalyptus in skincare?
Eucalyptus doesn't have the moisturizing benefits of other oils, so it's not necessarily a hydrating ingredient, but it can be combined with moisturizing actives. For people with acne, eucalyptus is most effective as a spot treatment. It dries up pimples by killing the bacteria and stopping the inflammation. When used in small amounts it can also help reduce the redness and irritation of acne. Just be careful, because when used in higher doses it can be very drying and may be better for those with oily skin.
Believe it or not, eucalyptus is a potent ingredient and should be used with caution. In large quantities it can be toxic or cause adverse reactions, but when used correctly it is truly a powerful healer.
Ready to try a product with eucalyptus? The SLMD Salicylic Acid Cleanser has trace amounts of eucalyptus, which lend a great scent and help to sooth redness and inflammation.