In skincare products, one of the most commonly used ingredients is salicylic acid, which can be very effective in treating certain types of acne. But what is salicylic, and why is it so powerful?
What is salicylic acid? 
Salicylic acid is derived from the chemical compound Salicin, which is found naturally in willow tree bark. Salicylic acid actually contains the same anti-inflammatory ingredients that you find in Aspirin (acetylsalicylic acid) which gives the ingredient its antibacterial and drying effects — two important factors when it comes to treating acne. The ingredient is also a keratolytic, which means that it dissolves or breaks down keratin, the protein that makes up the outer layer of skin.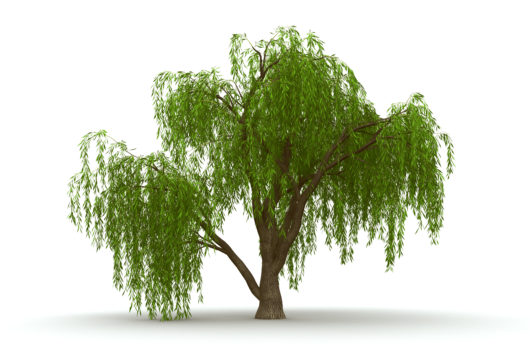 What makes it such a powerful ingredient?
As salicylic acid can effectively unclog pores, it tends to be great for blackheads and whiteheads because it works to clear out bacteria and skin cells in pores. But, it can also be helpful for more inflammatory and bacteria-based cystic acne. In addition to treating acne, salicylic acid can also be used to treat dandruff, seborrheic dermatitis, psoriasis, calluses, corns, and keratosis pilaris, among other conditions. 
What forms is salicylic available in? 
Salicylic Acid can be found in acne cleansers, lotions, and spot treatments. In general, an acne cleanser is less effective because it's washed off the skin immediately, whereas a spot treatment or cream with the ingredient that stays on the skin for longer periods of time may yield better results.
When opting for a salicylic acid-based product, the amount of salicylic acid in that product is important to note. A common mistake people make is immediately choosing the product with the highest percentage of the ingredient. Over-the-counter salicylic acid products will contain anywhere between 0.5% and 2%. If you are just beginning to use salicylic acid products, remember that it has drying effects on the skin so starting with a mild dosage is best — and often just as effective.
Who benefits most from the inclusion of salicylic acid in their products? 
For the most part, salicylic is best for tackling acne and as a pore de-gunker, but can also be used to treat dandruff, seborrhea, psoriasis, and to remove corns, calluses, and warts.
Want to learn more about salicylic acid? Watch Dr. Sandra Lee (aka Dr. Pimple Popper) discuss this all-star ingredient!
Looking for some great salicylic acid products?
Check out the SLMD Skincare Acne Cleanser & SLMD Skincare x Dr. Pimple Popper Acne Spot Treatment!