Living with a skin disease can be frustrating, painful, and downright uncomfortable sometimes… or all the time, depending on what you're dealing with. There's the variety of physical and emotional symptoms, but there's also the societal stigma — unfortunately, we live in a world where first impressions typically involve one's physical appearance, and where judgments run rampant.
While the severity of skin diseases can vary from mild to severe, many people are living their lives to the fullest despite the unpredictability and limitations these conditions may throw their way. We found these men and women particularly inspiring and wanted to share their stories with you. From online influencers and health coaches to marketing experts and pastors, these individuals are inspiring people of all ages to be proud of the skin they are in and focus on the difference their story can make in the world.
So read on to feel inspired and encouraged as you learn more about these eight superstars who are blazing a trail in the areas of vitiligo, psoriasis, and eczema.
The #Skinfluencer: Vitiligo Queen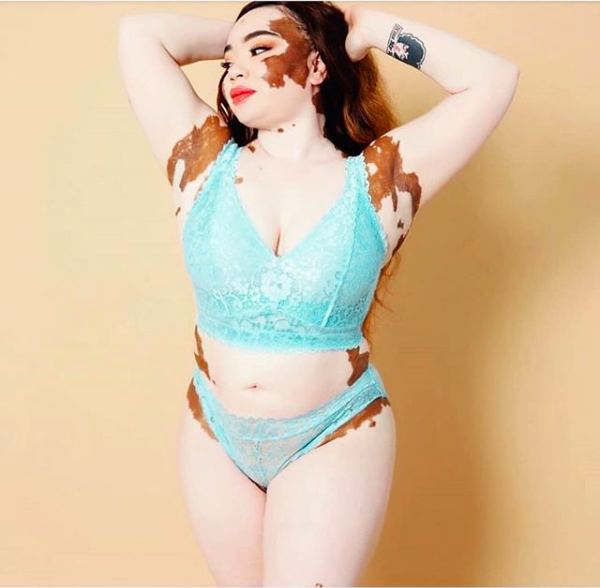 In addition to being a mother, makeup artist, and esthetician, Tanesha Brown is an online influencer known as Vitiligo Queen and she's taken awareness of the skin condition to another level thanks to her Instagram page. Vitiligo is a is a skin disease that causes patches of skin to lose their color, but it's not contagious or life-threatening.
Diagnosed with vitiligo at age five, Tanesha began to see her skin noticeably change around the age of eleven. Seeing how the general public was so misinformed about the condition, she has made it her mission to educate and clear up misconceptions surrounding vitiligo.
"I started my IG page to be myself and to show and educate people, through my personality, what vitiligo truly is. The way I am on social media is really how I am in person, so if anyone receives inspiration from my posts, I'm always so grateful and honored to be that positive representation of beauty and motivation. I'm not just here for people with vitiligo, my posts are for anyone who's interested in being a part of my journey while embracing their own."
Vitiligo Queen's plans for the future are to begin a mentoring program through her nonprofit, Kiss My Ego.
The #Skinfluencer: Living Dappled
Though Erika Page's first vitiligo spots appeared around her spine around the age of seven, they eventually covered her entire body. Now she has combined her personal experience of living with vitiligo with her career experience in PR and marketing to found Living Dappled.
The Living Dappled website provides in-depth coverage on a wide variety of topics including news, advocacy, fashion, beauty, wellness, and voices in the vitiligo community. While fun and upbeat topics are discussed, readers can also find serious, thought-provoking pieces on the blog, such as one of its most popular posts: The Difference Between Vitiligo and Albinism, and Why it Matters.
Erika's advice for other women living with vitiligo in an appearance-obsessed world? "Understand that you can love yourself and that loving yourself will make you happy, and then pursue that every single day with everything you have," she says. "It's going to take courage and you're going to have to push yourself out of your comfort zone, but you can get there. And you'll never look back once you're there."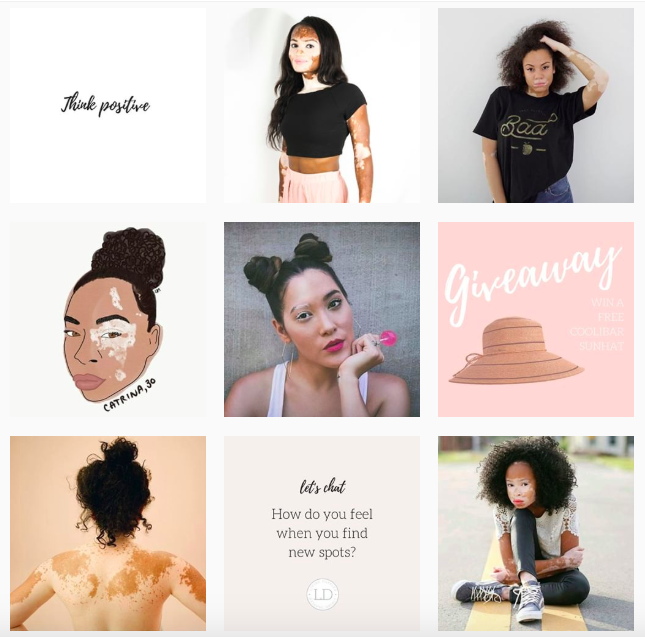 A snapshot of the Living Dappled Instagram feed.
The #Skinfluencer: Itchin Since '87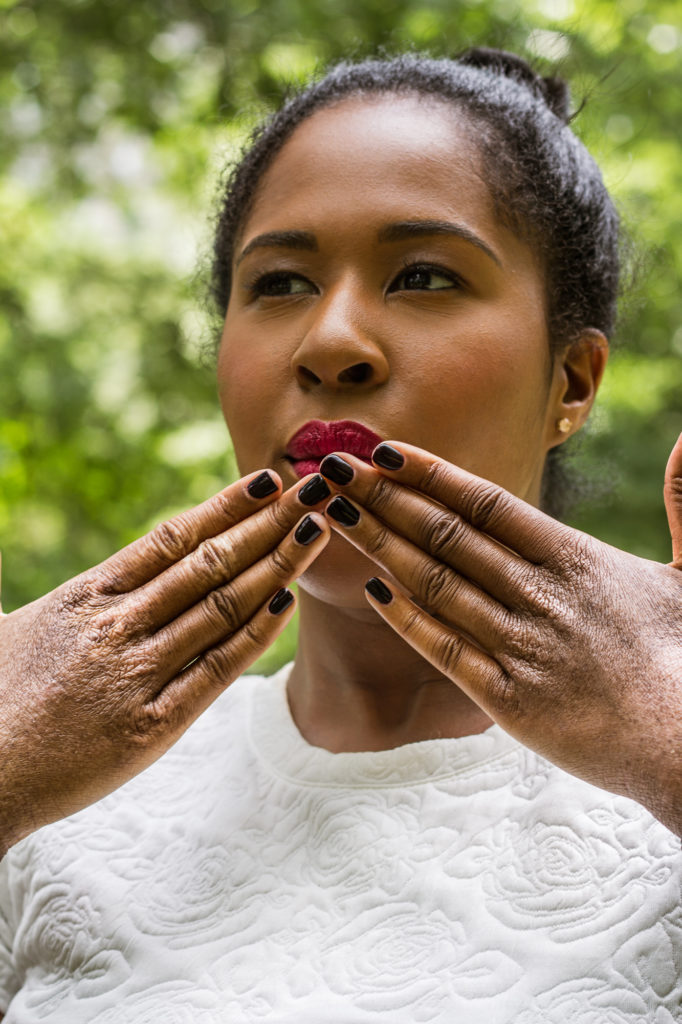 Ashley Wall, the founder of Itchin Since '87, has been dealing with chronic eczema since she was two years old. Eczema is a chronic condition where a person's skin is consistently dry, rough, itchy, cracked, and/or scaly.
Ashley has a bold personality and a larger-than-life sense of humor, which is highlighted throughout her blog. For visitors to her site who aren't familiar with eczema and don't understand the daily struggle, she compares the condition to feeling like bugs are crawling all over your body, rolling around in a field of poison ivy, or wearing clothes that are made out of itching powder.
And for those who are dealing with the skin condition, her site is loaded with informative topics such as eczema and mental health, the link between probiotics and eczema, and helpful back to school tips. She also runs a helpful Eczema-focused Instagram page.
The #Skinfluencer: Brook Griggs
Cosmetologist and makeup artist Brooke Griggs is not only incredibly gifted in the area of makeup artistry, but her transparent and bold videos about her struggle with eczema make her a force in the skin condition influencer world. Visitors to her YouTube channel will not only find a plethora of informative and fun to watch makeup tutorials but will also get up-close-and-personal with Brooke as she shares true-life stories — sans makeup — of her eczema flare-up battles.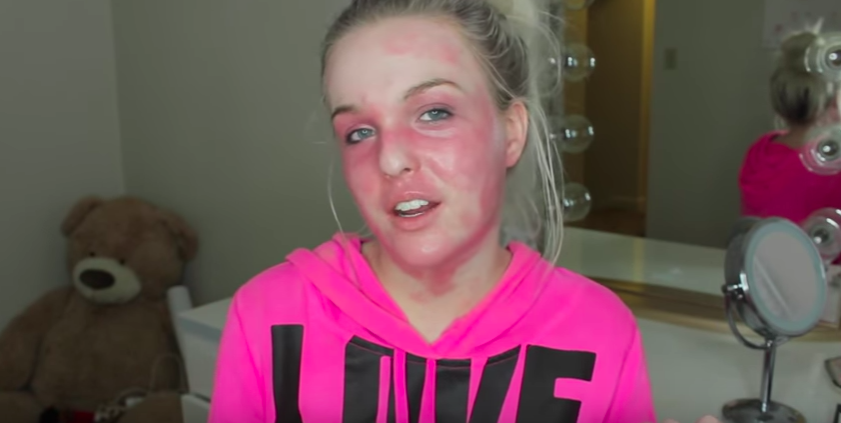 Her YouTube viewers can also learn about the different medications she is trying that are helping her to have better control over her eczema. She provides a variety of makeup tips for those with and without skin conditions, plus there's the added bonus of encouragement for those who are battling the stigma that still surrounds these conditions.
The #Skinfluencer: The Itch To Beat Psoriasis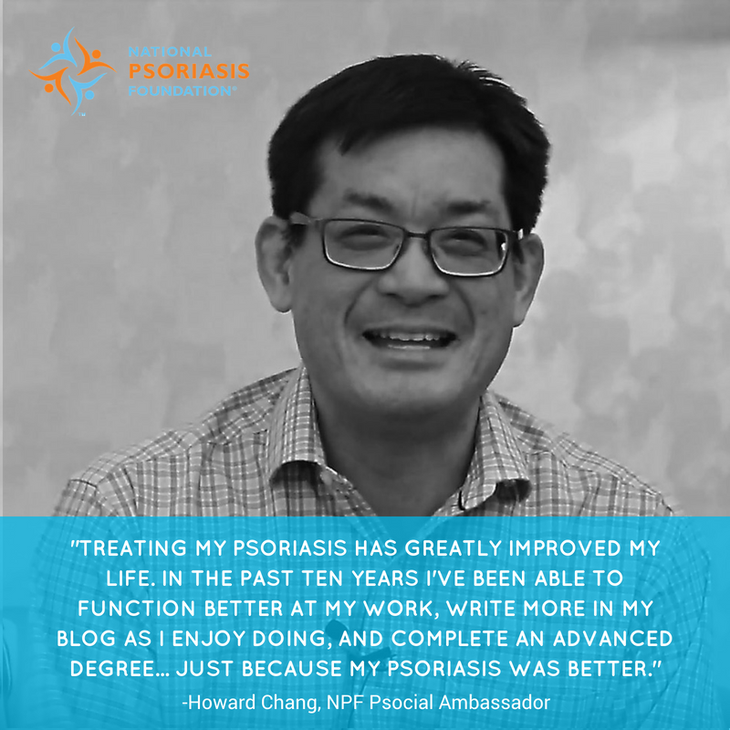 Pastor, blogger, and advocate for the National Psoriasis Foundation, Howard Chang has been living with psoriasis and eczema for over 35 years. His mission is to inspire, empower, and advocate via his website, social media accounts, and columns he writes for various media organizations.
Psoriasis is a chronic condition in which thick patches of scaly-looking skin show up, which is a result of a person's body producing cells at an abnormally fast rate. These thick, irritating patches are almost always painful and itchy, and they sometimes bleed and crack.
Visitors to Howard's site can learn more about the various psoriasis treatment options he's tried over the past three decades. He provides detailed information on how well each treatment worked, the hurdles he faced, and any side effects he experienced. He created the site in hopes of helping visitors "feel encouraged that someone else goes through similar treatment ups and downs, and help people gain a measure of hope to keep fighting and trying."
Here's a snapshot from one of Howard's recent posts.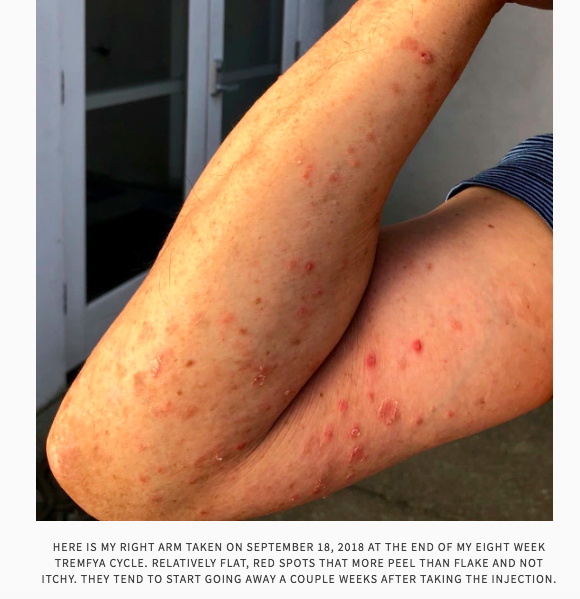 The #Skinfluencer: Just a Girl With Spots
At JustaGirlWithSpots.com, readers will find founder Joni Kazantzis — a confident, outspoken woman who was diagnosed with plaque psoriasis and guttate psoriasis at the age of fifteen.
Joni shares how being diagnosed in her teen years was difficult, as many people didn't understand what her condition was, and having spots all over her body made her feel self-conscious and alone.
Today, she shares with her followers about her psoriasis journey and how she has learned more about what her body and her mind need in order to be happy and healthy. Readers will also get the inside scoop on her holistic approach to treatments that include both prescriptions and alternative therapies. We love the story she posted a few months ago about what it's like getting a haircut when you struggle with scalp psoriasis.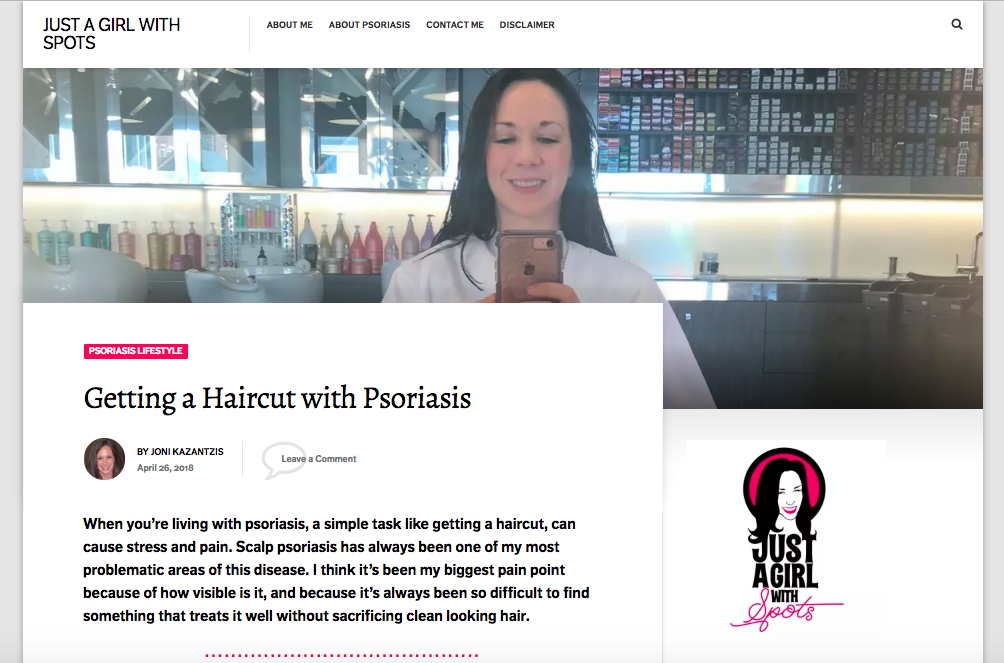 Her overall mission for her blog? "To spread awareness of what psoriasis is and that it's not 'just a skin condition'. There are mental and physical challenges that we must overcome daily associated with our disease." Her site aims to encourage and motivate, plus teach readers about different therapies and wellness approaches that have helped Joni on her plaque and guttate psoriasis journey.
She also runs a Facebook community where she shares links, photos, and stories.
The #Skinfluencer: CityGirlFlare
Proclaimed city-lover Lori-Ann Holbrook is a New York City transplant currently living in Dallas. From there, she blogs and writes for several media outlets about what it's like living with psoriasis and psoriatic arthritis.
Diagnosed in 2012, Lori-Ann is transparent with her fans about how she had to tweak her activity levels and lifestyle in order to better manage her chronic illnesses, but it hasn't diminished her spunk or love for life. Visitors to the blog can learn more about her life and also the lowdown on both psoriasis and psoriatic arthritis. She's also active on Twitter and Facebook.
We love that she shares very real, candid posts on her Instagram, too.

The #Skinfluencer: It's Just a Bad Day 
When you visit Julie Cerrone's website, It's Just a Bad Day, you know you've found a wealth of inspiration and information. As a yoga instructor and holistic health coach, Julie thrives thanks to a positive attitude and refusal to surrender her life over to any of her chronic diagnoses, which include psoriasis, psoriatic arthritis, depression, avascular necrosis, among others.
Visitors to the site will find a treasure trove of content that explores areas such as psoriasis and pregnancy, how journaling can help with psoriatic arthritis, tips for working with psoriatic arthritis, and more. Her mission with her website and social media (including Instagram and Facebook) is to encourage others with her motto: "Don't ever let a bad day make you feel like you have a bad life! In order to get the good, we must take the bad as well!"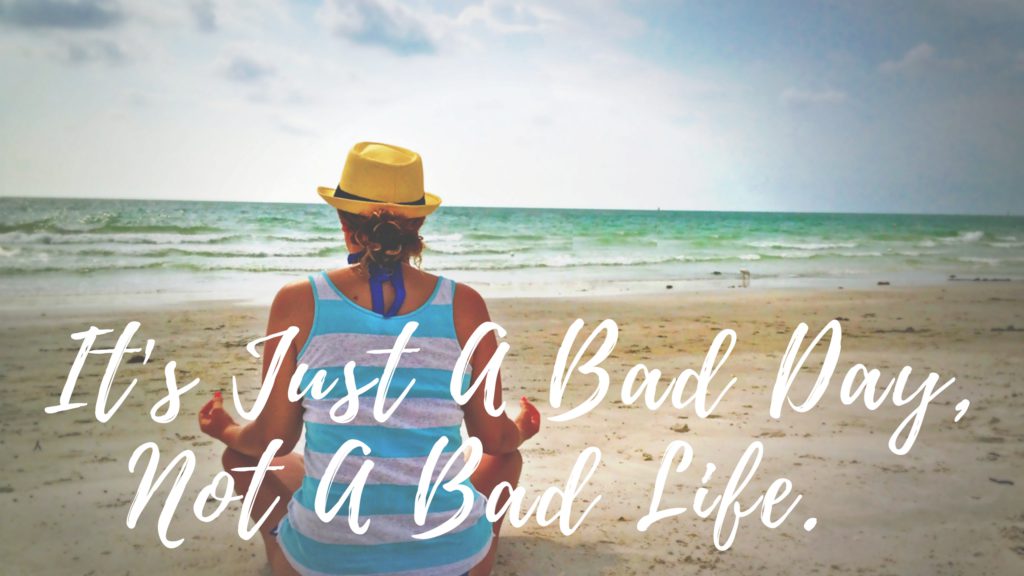 Know a chronic illness warrior who should be recognized? Drop their name in the comments below and tell us more!