It's scientifically proven that UV rays — both UVA and UVB — are harmful to the skin and capable of causing not just sunburns, but signs of aging and skin cancer. According to the Skin Cancer Foundation, getting just five sunburns before the age of 20 increases your risk of melanoma by nearly 80%.
The best way to protect yourself from these harmful sun rays? Broad spectrum sunscreen. But what if there were a way to actually monitor the UV radiation that your skin is being exposed to? Well, now there is.
La Roche-Posay created My UV Patch with the aim of helping people to have a true understanding of the UV radiation they're exposing their skin to when they're out in the sun.

How does the patch work, exactly?
The flexible, stretchable sensor is made of a transparent adhesive, is about one square inch, and is only .05 millimeters thick — half the thickness of a strand of hair, literally .002 of an inch! It attaches to your body for up to three days and is water and sweat resistant so it can be worn while swimming or in the shower.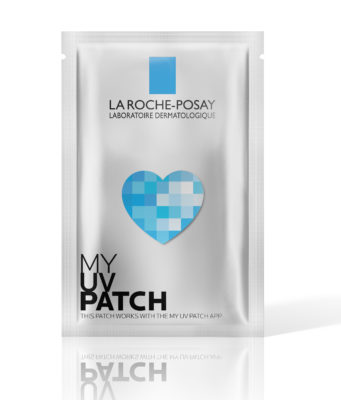 Once the patch is exposed to the sun's UV rays it changes color to indicate the skin's level of sun exposure. The technology connects to a My UV Patch app on your smartphone, which allows users to scan a picture of their patch to analyze its data. The analyzation takes into account a wearer's skin type, whether sunscreen was applied, and the UV index in their location. The app then creates a personalized report about the wearer's UV exposure.
The brand conducted a study of 100 customers who used the patch, and 63 of those patch wearers said they experienced less sunburn. About a third of responders reported that they used more facial sunscreen, and another 31 tried to stay in the shade more.
In other words, awareness is a proven key in helping people to change how much they choose to expose their body to the sun. Whether it's setting a timer when you're laying out (with SPF on, of course!), being vigilant about reapplying that sunscreen, wearing the My UV Patch, or simply picking a lounge chair in the shade, they real key to UV protection is being aware that too much sun exposure does more harm than your tan is worth.