Consistent sun protection is crucial to skin health — especially on your face. But it's tough to reapply throughout the day if you're wearing makeup. The ideal solution is to wear an SPF underneath your primer or, even better, find a primer or foundation that has SPF in the formula.
Too attached to your favorite foundation? Don't want to layer too many products on your face before you apply your makeup? We get it. One of the best SPF solutions for women who wear makeup everyday is powdered sunscreen. Just a quick sweep and you're protected from sun damage — without messing up your perfect contour. Plus, these powders have an added benefit of soaking up surface oils… What's not to love?
How does powdered sunscreen work? 
Powdered sunscreen, generally a mineral-based formulation, functions the same way as any other powder: by providing mattifying coverage across the surface of the skin. A powdered sunscreen, however, contains ingredients that protect you from UVA and UVB rays. Like many sunscreen formulations, powdered sunscreens most often contain a mixture of chemical and physical sun protecting ingredients to ensure skin is protected from all forms of harmful rays.
Is a powder really enough? 
Absolutely! In fact, many highlighting or bronzing powders already contain physical sunscreens like titanium dioxide and zinc oxide, as these ingredients have a blurring effect and reflect light, which is how they protect from sun damage. Physical sunscreens tangibly block the sun's rays from reaching into the skin and causing damage. Unless it specifically contains SPF, your everyday finishing powder won't be enough to protect from sun damage, but boost it with an additional form of sunscreen and you're all set!
Some great examples of powdered sunscreens are: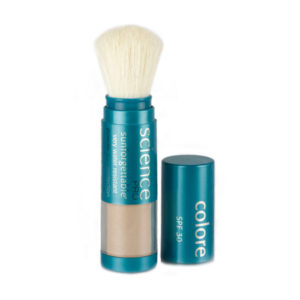 Colorescience Sunforgettable Brush-On Sunscreen SPF 30 ($57) is a great option for those looking for a high SPF as well as a little color coverage. Available in three shades, this convenient all-in-one brush dispenses just the right amount of powdered sunscreen for optimal sun protection.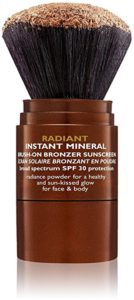 Peter Thomas Roth Radiant Instant Mineral SPF 30 ($35) is a brush on bronzer option with added SPF benefits. Fake a glow and protect your skin at the same time? Winning!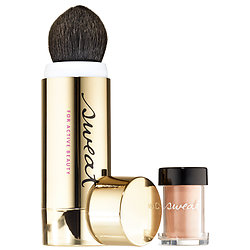 Sweat Cosmetics Mineral Illuminator SPF 25 ($42) is a unique option as it serves as an SPF and highlighter. This universal illuminating shade can be used by any skin tone, and can help you glow — without the burn.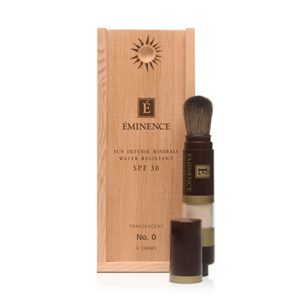 Eminence Organics Sun Defense Minerals ($58) is a Certified Organic product that provides SPF 30 in a water resistant formula that's available in a translucent version or five varying shades that can be used as bronzers.