Prickly pear seed oil can be a mouthful to say — and its name is a bit confusing. Is it a pear? A seed? Does it have spines? Don't be confused: This oil is a powerfu­l anti-aging ingredient that skincare manufacturers and beauty editors alike have deemed to be a fountain of youth and an "it" skincare ingredient.
Two of our favorite prickly pear seed oil products are from Aynara Beauty — 100% pure organic formulations sourced straight from Morocco. But before we tell you about those, let's delve into what prickly pear seed oil actually is, where it comes from, and why it's so fabulous for your skin.

Where does prickly pear seed oil come from?
You're probably imagining a spiny version of the pears you pick up at your local grocery store, and we don't blame you. Prickly pear seed oil actually comes from the prickly pear cactus, which is sometimes called the barbary fig. The cactus grows fruit pods that contain small seeds, and these seeds are filled with a nutrient-rich oil that's extracted and used in skincare.
Fun Fact: The prickly pear cactus is a vegetable and a fruit! Its green pads (the main part of the cactus) are considered a vegetable, but its tunas (those seed pods we talked about) are fruits!

What's so great about prickly pear seed oil?
For starters, it's got a ton of tocopherol, aka vitamin e, which is a natural and potent antioxidant found in vegetable oils. Many people are obsessed with argan oil for its high vitamin E count (we don't blame them, it's a great oil!) but prickly pear seed oil actually contains 150% more vitamin E!
It also boasts lots of vitamin K, which is known for its ability to brighten skin and reduce the appearance of under eye circles, hyperpigmentation and dark spots! High levels of amino acids make prickly pear seed oil an ideal product for stimulating the production of collagen, promoting cell turnover, and reducing the appearance of fine lines and wrinkles.
Betalains are another all-star aspect of prickly pear seed oil. They're a kind of antioxidant that's found in many superfoods (you've probably heard of acai and goji), and prickly pear has an especially high concentration, making it incredibly effective for anti-aging formulas.
On top of all these fabulous ingredients, prickly pear is also renowned for hydrating and nourishing the skin and tightening pores — all without leaving a greasy or oily residue. "Prickly pear seed oil is non-comedogenic, so you can safely use it every night— ideally after cleansing and exfoliating your skin — without fear of clogging pores," says Nadja Pletikosic, founder of Aynara Beauty. "In fact, it helps balance your skin's oils so you are less prone to breakouts!"

Such an amazing oil must come with quite a price tag!
It's true, quality prickly pear seed oil is not cheap. "Prickly Pear seed oil is one of the most expensive raw oils in the beauty industry," explains Nadja. "This is not only because of its labor-intensive extraction but also because of the incredible amount of nutrients it contains, which becomes evident as soon as you apply it on your skin."
So what prickly pear seed products do you recommend?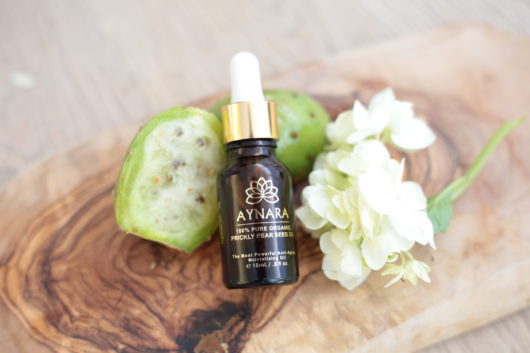 The Pure Organic Prickly Pear Seed Oil from Aynara Beauty has quickly become one of our favorites. Just two drops will nourish your entire complexion as you sleep. It leaves a light scent, reminiscent of sweet bales of hay, and though it goes on distinctly as an oil, it doesn't leave the skin feeling greasy at all.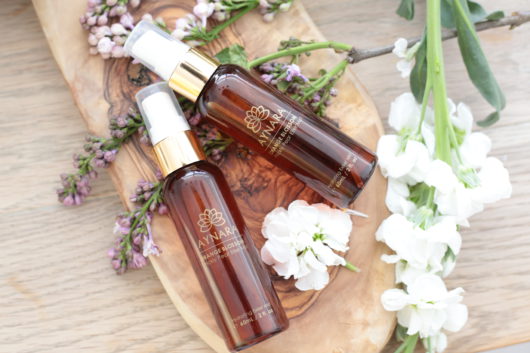 And prickly pear isn't just great as a standalone product! Aynara has combined it with orange blossom in their Elixir Mist to create a refreshing, hydrating facial spray that can be used any time throughout the day for a quick skin pick me up. You can even use it to set your makeup or soothe sensitive skin, and it's safe to use as many times throughout the day as you need.
We love that both of these products are cruelty free, paraben free, and vegan, and we love even more that it's sourced from land in Morocco that's owned and managed by Nadja and her family. The family has their own lab where they do all their testing, and their raw materials are shipped to LA where they're bottled and labeled!
Convinced about the wonders of prickly pear? Snag an Aynara oil and mist for yourself!