Hello Spring! The snow is melting, the sun is shining, and your skin's needs are changing. Yep, the rumors are true: switching up your skincare routine each season is crucial for your skin's health!
Why? Well, for starters, if you live somewhere with distinct seasons, then there's a good chance that you experience dry skin in the winter, since the lack of moisture in the air is seriously, well, drying. Once spring hits, though, you won't necessarily be dealing with that — but there are other season-specific skin care issues to keep in mind instead. Making a few key changes will ensure your complexion glows this spring.
The tips below will help you take your skin care routine from winter to spring like a pro. So without further ado, here are seven ways to switch up your skincare routine for Springtime!

Get a deeper clean.
While gel and foaming cleansers may have been too harsh for your skin in the winter, spring is the perfect time to bring them back. At the end of a warm day, say goodbye to all the dirt, grime, and pollutants that have piled up on your face with a deep-cleaning cleanser. Try one that's got a gentle exfoliant, like salicylic acid, to ensure dirt and grime are really pulled out of your pores.
Two great options are Tatcha's Deep Cleanse and SLMD's Salicylic Acid Cleanser.
Switch to an oil-free moisturizer with SPF.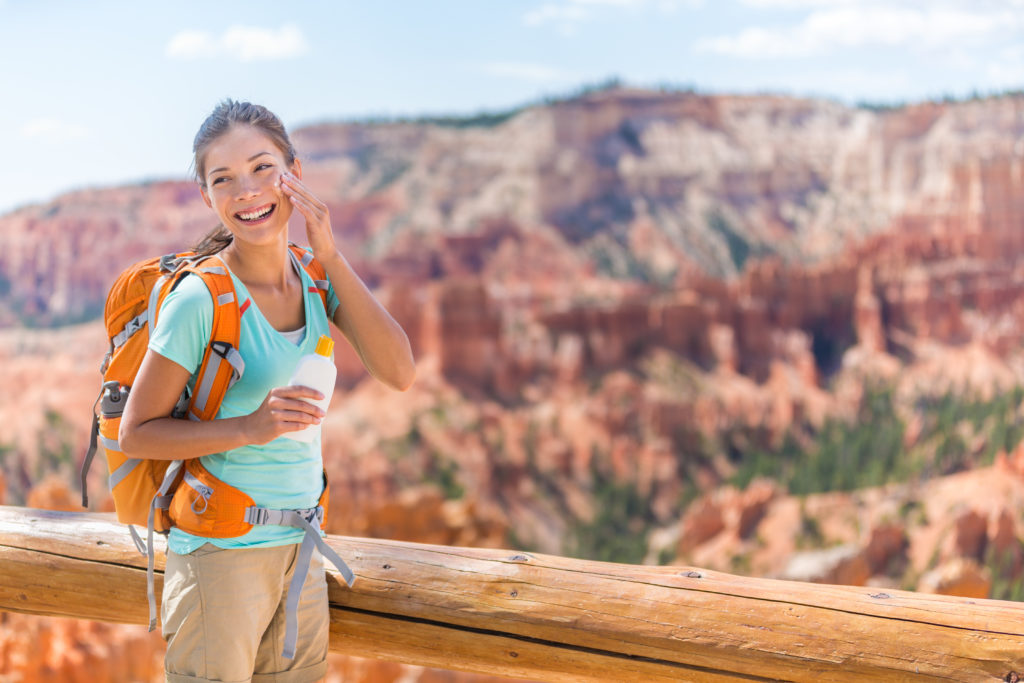 You may have slathered a heavy cream onto your face morning and night during winter to hydrate your parched skin, but once the heat and humidity creep up, it's time to turn your attention to something a little more lightweight. If you find your skin looks and feels greasier when it's warmer outside, pick an oil-free, non-comedogenic (i.e. won't clog pores) moisturizer — even better if it has SPF. Sunscreen shouldn't be reserved just for days at the beach! As your workouts move outdoors and you spend more lazy afternoons under the sun, never skimp on the SPF.
Our favorite options are the SLMD Daily Moisturizer with SPF 15 and Coola's Moisturizer Sunscreen with SPF 30.
Keep allergy-related under-eye puffiness at bay.
Spring allergies are no joke. In addition to making you sneeze like crazy, they may also leave you with puffiness under your eyes. So, add a de-puffing eye cream to your skin care routine and lightly dab it around your eyes with your ring finger. One good ingredient to look for in an eye cream is caffeine, because it can help squash swelling. Storing your eye cream in the fridge and applying it cold may also alleviate your under-eye bags temporarily.
We love Dermalogica's Stress Positive Eye Lift for its cooling metal-tip applicator and the Biossance Squalane + Peptide Eye Gel.
Beat winter dullness by exfoliating!
Winter weather can give your skin a beat down, leaving you with lackluster skin. Get rid of that dullness by chemically exfoliating with acids or enzymes once a week, and using a gentle facial brush or cleansing pads to buff away dead, dull skin. Look for an at-home peel that is formulated with glycolic acid, lactic acid, or fruit enzymes (like pomegranate or pumpkin). These ingredients bust through dulling dead skin cells sitting atop your skin, leaving you with brighter, clearer skin.
Peter Thomas Roth makes a FIRMx Peeling Gel and the AHA/BHA Exfoliating Cleanser from Murad is packed full of exfoliants.
Stock up on travel-size goodies.

Heading out of town for spring break? Be prepared so that you're not scrambling last minute. Hit up your local drugstore for travel sizes of all the products you'll need — especially sunscreen! If you can't bear to not have all of your skin care products with you, buy TSA-friendly travel-size bottles and squeeze your lotions into them so that you'll be able to stash them in your carry on bag. Besides travel-compliant skin care products, make sure you also have all your sun accessories on hand as well. Sunglasses and a wide hat will give you another layer of protection against the sun while you lounge on the beach or do outdoor sightseeing on spring break.
SLMD's Acne System is all TSA-friendly sized bottles! Consider getting the La Roche-Posay UV detecting patch, which can alert you when you've spent too much time in the sun!
Prep your feet for sandals.
If you live somewhere that sees a lot of snow or cold weather, your feet haven't exactly seen the light of day in a few months. That means they've likely been cooped up in boots since December, and therefore are in need of some serious pampering. Head to your favorite nail salon for a much-needed exfoliation pedicure!
If you'd rather stay home, you can create a DIY foot spa without leaving your PJs! Start by exfoliating with a pumice stone — this scrubbing action will loosen drying dead skin cells. Next, place your feet in a large bowl of warm water and soak for five minutes. Once that time is up, massage an exfoliating lotion into your feet to further remove dryness. Wash off the lotion, dry your feet with a soft towel, and apply an ultra-rich cream to lock in moisture.
We're also a fan of the foot-peeling masks — try the Babyfoot or Patchology options!
Remove hair smartly.

So, you didn't exactly keep up with your hair removal routine over the winter — after all, you weren't exactly able to rock tank tops, shorts, or bathing suits while the temperature was below freezing. We definitely don't blame you. But now that you're getting into the habit of shaving or waxing again, it's important to give your bod some TLC. After all, ingrown hairs are the worst! Exfoliate with a gentle body scrub a day or two beforehand to make taking the hairs out easier.
Want options besides shaving? Check out our hair removal 101 guide!