What do birth control pills, diabetes, and polycystic ovarian syndrome all have in common? They can all cause discoloration of the skin!
That's right — all three of these seemingly unrelated health care topics can cause acanthosis nigricans, a skin condition characterized by dark, thickened, velvety patches of skin mostly found in creases and skin folds on the body, namely in the armpits, groin, neck, elbows, knees, knuckles, lips, palms, and feet.
What causes acanthosis nigricans?
Increased insulin levels can lead to the discoloration or changes in texture in a person's skin, but the causes of these increased insulin levels vary. Insulin is a hormone that our pancrease produces to help our body process sugar. You've probably heard about those with diabetes, who need more insulin because their body can't properly digest sugary foods. Well, he most common cause of acanthosis nigricans is insulin resistance, especially in individuals who are at risk of contracting type 2 diabetes.
Certain hormonal disorders such as cysts, thyroid abnormalities, and gland problems can also be to blame. Hormonal medications like birth control pills and some supplements can also increase insulin production — or heighten risk of resistance in some patients — which can then lead to acanthosis nigricans. In some rare cases, acanthosis nigricans could occur because a patient has lymphoma or cancer in the stomach, liver, or other internal organ.

I think I might have acanthosis nigricans. Should I be worried?
Not necessarily. Most commonly, hormonal imbalances that trigger the discoloration and change in the skin's texture that's characteristic of acanthosis nigricans can be caused by medication or supplements, insulin resistance, or diabetes. A recent study found that about 30% of Polycystic Ovarian Syndrome (PCOS) patients also have acanthosis nigricans. So before you start freaking out, talk to your doctor about all the possible causes of your condition. Diagnosis could range from a simple evaluation of diet and exercise habits to blood tests and x-rays.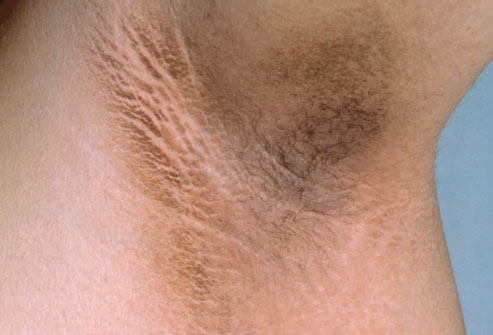 Really, PCOS causes this? How does a reproductive disorder cause a skin condition?
Let's back up for this one. If you're unfamiliar, PCOS is a reproductive health condition in which hormonal imbalances affect a patient's ovaries. This can cause irregular menstruation, irregular hair growth, weight gain, and infertility. PCOS patients tend to have higher levels insulin in their blood, making them insulin-resistant and putting them at higher risk of prediabetes or diabetes. As we already know, high insulin levels can lead to acanthosis nigricans. High insulin can also trigger the overproduction of testosterone, which can lead to other skincare problems for patients. In fact, PCOS-related hormone imbalances can manifest in a variety of skin conditions, including hirsutism, acne, female pattern hair loss, seborrhea, striae, and acrochordons.
How do I treat acanthosis nigricans?
It depends. Acanthosis Nigricans itself isn't actually a disease, but rather, a symptom of another health issue, so treatment depends on the underlying cause. Sometimes, the answer can be as simple as working out or changing your diet. In other cases, adjusting medications or supplements under the guidance of your doctor can do the trick. For PCOS patients, collaboration between an individual's dermatologist, endocrinologist, gynecologist, nutritionist, and physical trainer was found to be the most effective mode of treatment.
In addition to treating their underlying causes, some acanthosis nigricans patients choose to treat their darkened skin with cosmetic treatments. There are several ingredients — Retin-A, urea, alpha hydroxy acids (AHAs), and BHAs like salicylic acid — that target the discoloration caused by the condition. Other helpful treatments include antibacterial soaps, oral acne medicine, and laser therapies. Cosmetic treatments, and their effectiveness, will vary depending on the severity of the discoloration and underlying condition, so those with acanthosis nigricans should always consult with their dermatologist and other doctors before using products or booking procedures.
The good news is that for many patients, symptoms subside once they address the root cause of their increased insulin production. It's important to realize that acanthosis nigricans indicates an underlying health problem that you should really address with your doctor, but this health problem is likely related to diet and exercise regimens. Even still, the condition shouldn't be ignored, as some rare cases are caused by more serious conditions like cancer or PCOS. Even then, early detection is key to recovery and symptom management.
Although sudden changes in your skin and physical appearance can be scary, acanthosis nigricans isn't something to panic about. If you have concerns about symptoms you may have, consult a dermatologist or gynecologist to rule out more severe causes.