Don't be confused by its technical name, intertrigo (pronounced in-ter-tri-go) is simply a rash that develops when two skin surfaces rub together and trap moisture. Want to know what the symptoms of intertrigo are? Learn all about why this rash develops — and how to quell it.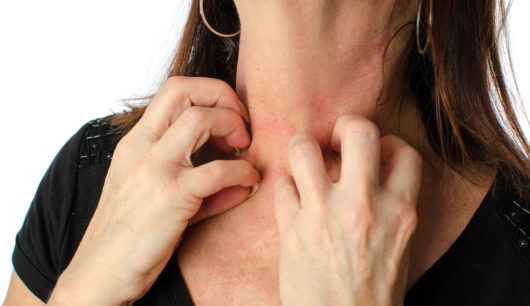 Why does intertrigo form?
Intertrigo is the result of folds of skin rubbing together, which causes friction and a build up of moisture that gets trapped within the skin. Intertrigo commonly appears in skin folds because these areas tend to become, and stay, moist, which leads to a rash that becomes inflamed as the body tries to fight the irritation. This is why intertrigo most commonly appears in areas that are covered, produce sweat, or have poor circulation; typically the armpits, underneath the breasts, the genital area, in between the toes, on the abdomen or in creases of the neck.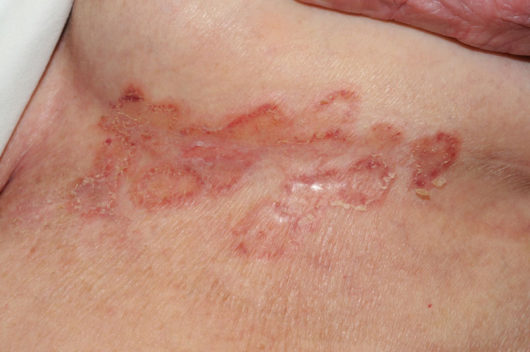 What are the symptoms of intertrigo?
Intertrigo patients complain of burning and itching in the folds of their skin, a consequence of the friction and resulting infection. The rash is often accompanied by an infection that's caused by various microorganisms, namely yeasts, fungi, or bacteria. Skin appears red and inflamed, sometimes cracked, crusty or scaly, and often has a bad smell.
Who is prone to intertrigo?
This uncomfortable inflammation can afflict any race, gender, or age group, but is more common in those who are consistently exposed to high heat or humidity, are obese, suffer from diabetes, are wearing a brace or splint, or have an artificial limb. Environmental factors can impact the development of intertrigo, particularly increases in temperature and humidity during the summer months. Athletes, or those who participate in activities like cycling or running, tend to make repetitive movements with their bodies that create friction between layers of skin, therefore leading to a higher risk for intertrigo. The presence of large folds of skin may also increase the likelihood of intertrigo. Infants are also at greater risk for intertrigo — the inflammation typically presents as a diaper rash.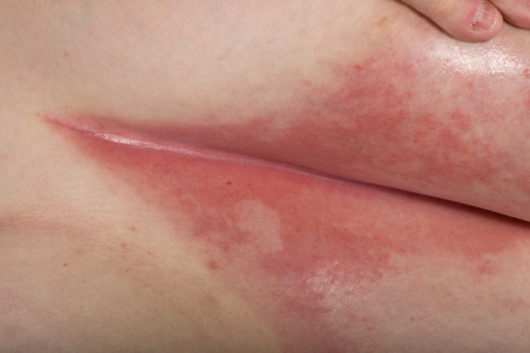 What are the best intertrigo treatments?
The most effective way to treat an area with intertrigo is by keeping the inflamed skin dry and exposed to the air. Applying Burow's solution (a popular over-the-counter topical is called Domeboro) with a compress, then using a hair dryer (but only on its cool setting!) to bring relief to the skin, is an easy way to provide relief.
Another over-the-counter solution is a mild topical steroid, such as a hydrocortisone cream. If the area has become infected, physicians will typically prescribe antifungal or antibiotic creams/ointments; they may also suggest antimycotic agents such as miconazole or clotrimazole in combination with a mild- to mid-potency steroid.
To prevent intertrigo, try applying a lubricating ointment to areas that are predisposed to irritation, especially before participating in any physical activity. Showering regularly and thoroughly drying the affected area(s) afterwards is generally the the most helpful solution. Those with a propensity for developing intertrigo should avoid wearing tight shoes or clothing; women should ensure they wear a bra with good support to prevent irritation on their abdomen.