If you're one of the nearly 250 million Americans (that's 77% of the population!) who own a smartphone, you likely use apps on that phone all day, every day to check everything from your social media accounts and the weather to your bank account and your email. But did you know that there are apps you can use to assess your skin's health? Yup! If you have concerns about — or just want to stay on top of — your skincare or skin health, here are some top-rated dermatology apps, backed by doctors and scientists.

1. Dermatology A-Z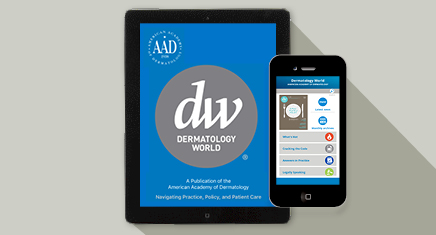 Created by the American Academy of Dermatology, the Dermatology A-Z app is designed for patients just like you who are looking for information on how to keep their skin healthy. You can use their location services to find a dermatologist in your area; read about skin, hair, and nail diseases; and learn the details of cosmetic and medical treatments. Concerned about getting a sunburn or skin cancer? The app uses your location to determine the local UV index in your area so you'll know how to protect yourself. All the information you get is evidence-based and dermatologist-approved. Best of all, the app is free and for Android and iOS.
2. Spruce App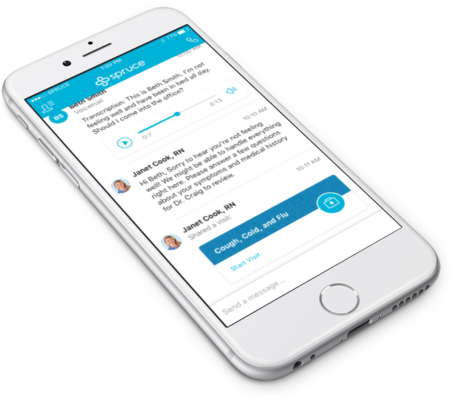 If you think something may be wrong with your skin but don't have time to see a doctor right away, did you know technology lets you take photos of what's bothering you and send them to a licensed dermatologist?! It's true. Spruce is free to download, and for $40 per assessment (likely $100 less than what you would typically pay to see a doctor), you'll hear back from a doctor within 24 hours and you get a diagnosis, 30 days of follow up time, and a treatment plan based specifically on your images and prognosis. Spruce doctors can diagnose and treat everything from hair loss to rashes to bug bites and stings. Unfortunately, these services aren't available in every state, so be sure to check out the app's website to see if your state is covered. But the app is HIPAA compliant, meaning your photos are treated with the utmost security and privacies.

3. Doctor Derm App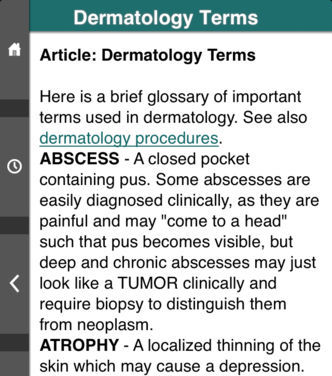 This dermatology dictionary was created by a board-certified dermatologist from the American Osteopathic College of Dermatology. The Doctor Derm App is, essentially, an easy to access dermatology guide that's written in simple language for the every day consumer. Featuring over 400 high-quality photos, Doctor Derm catalogs 240 skin diseases as well as 40 drugs and treatments. The app can also help you find a dermatologist in your area, even if you're without cell service: almost everything you'd need from the Doctor Derm app is self-contained offline.
4. MoleScope

Think you're at risk for abnormal moles? Paranoid your moles may be changing? MoleScope helps you track the size and location of your moles on a big, 3D body map! You can take and store photos and consult with doctors about your moles. The app also asks you questions about your moles, like if they're symmetrical, and the answers can help you decide if the moles need to be seen by a doctor. You can also look at the ABCDE's of Melanoma, an image guide to skin cancer. Since 70% of skin cancer diagnoses come from patients' own observations, this app was designed to help you (and your doctor!) by tracking your moles. The app also works for acne, age spots, and eczema, is free to use, and available on iOS and Android devices. It was, however, designed to be used with the MoleScope mobile dermoscopy device, which can be purchased online.

5. American Academy of Dermatology's Chronic Hives and Psoriasis Apps

Suffer from consistent breakouts of hives or psoriasis? These two AAD apps — free for iOS and Android users — will give you information about your chronic flare ups. They include symptom diaries, medication reminders, potential trigger identification, help finding a dermatologist, and more. You can also fill out a Dermatology Quality of Life index.
6. YoDerm

YoDerm bills itself as the easiest way to get prescriptions for everything from acne to fine lines to longer eyelashes. App users sign up for a consultation or product subscription, fill out a consultation (with photos) and are then connected with a dermatologist who can effectively diagnose them. Users can pick up their prescription or get it mailed directly to their house, and YoDerm follows up with you weekly to see how your treatment is going.

7. DermCheck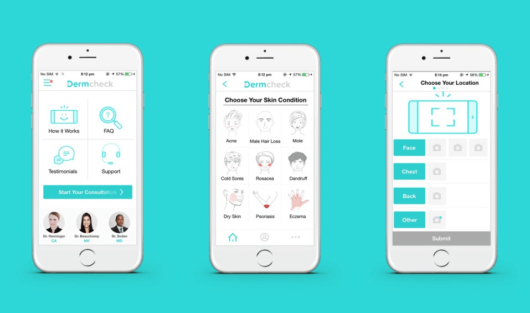 Similar to YoDerm and Spruce, DermCheck is another digital dermatology service that differs in that it accepts cash and many PPO insurance plans. App users get to video chat or directly call their assigned dermatologist, who will then provide a diagnosis and prescribe a medication, if necessary. Users can see their doctors' profiles (including photos!) right in the app. Unfortunately, however, DermCheck is only available in California.

8. Pimmento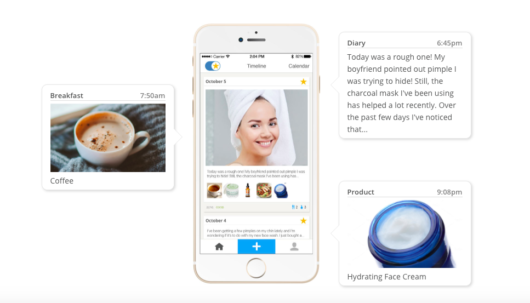 Pimmento is still in its testing phase, however it's a unique app that may be worth trying out — the opportunity to track how your skin reacts to diets, new products, and more.
The app was created by a woman who had been dealing with cystic acne for over ten years and wasn't sure what triggered it. By creating this tracker, she was able to get her acne under control. The company also coordinates with the NYC Shoebox Project, which donates decorated shoeboxes filled with luxury items to homeless women.

9. Wayskin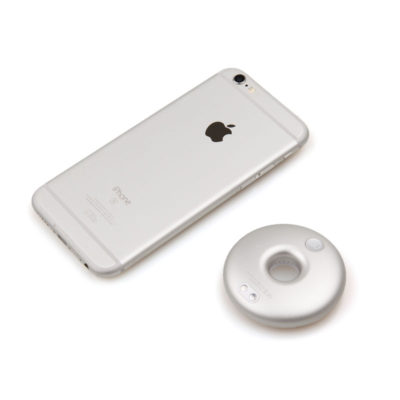 Wayskin is both an app and a device. You use the WAY (a device that looks like a small, silver donut) on your skin and its sensors collect data about your skin and your environment — the device can even read your skin's moisture levels, oil production, and age.
All of that information is then sent to an app, which then creates personalized recommendations… including how often to apply moisturizer. Since the device analyzes the environment around you — in other words, the levels of pollution, wind, and sun's UV rays — it knows what may be clogging your pores or drying out your skin… and remind you to wear sunscreen! Even cooler? You can get a pretty good gauge on whether your skincare products are providing their desired effect. The WAY device is $129 and can be purchased online.
These apps provide a pretty cool supplement to your skincare and healthcare routine, but if you notice a large change in your skin it is, of course, best to see a doctor in person. But in the meantime, download some of these and try them out! Have a favorite app, want to give some feedback on any of the apps above, or let us know about one we missed? Comment below!