Characterized by small, rough bumps on the surface of the skin, keratosis pilaris is a common, yet harmless skin condition. In fact, medscape.com cites that up to 80% of adolescents and 40% of adults are affected by keratosis pilaris, sometimes called KP. This, of course, doesn't stop the feelings of frustration and embarrassment that come with having red, itchy bumps and a condition that's nicknamed chicken skin.
Curious about keratosis pilaris, or think you may have it? Learn more about this skin condition and how it's best treated.
What are the symptoms of keratosis pilaris?
Most often, keratosis pilaris presents as small, hard bumps on the skin's surface. The bumps can look almost like tiny pimples and feel rough or dry — they may also be itchy and uncomfortable. These bumps tend to be lighter or redder on fair skin and darker on more pigmented skin, but can appear to be white, red, pink, light purple, brown, or black depending on the person's skin tone.
Keratosis pilaris got its nicknames of "chicken bumps" and "chicken skin" because the affected area of keratosis pilaris can look like the plucked skin of a chicken.
The condition most commonly appears on the upper arms, back, thighs, butt, or face and can appear as just a few spots or it can overtake an entire area, looking almost like a rash.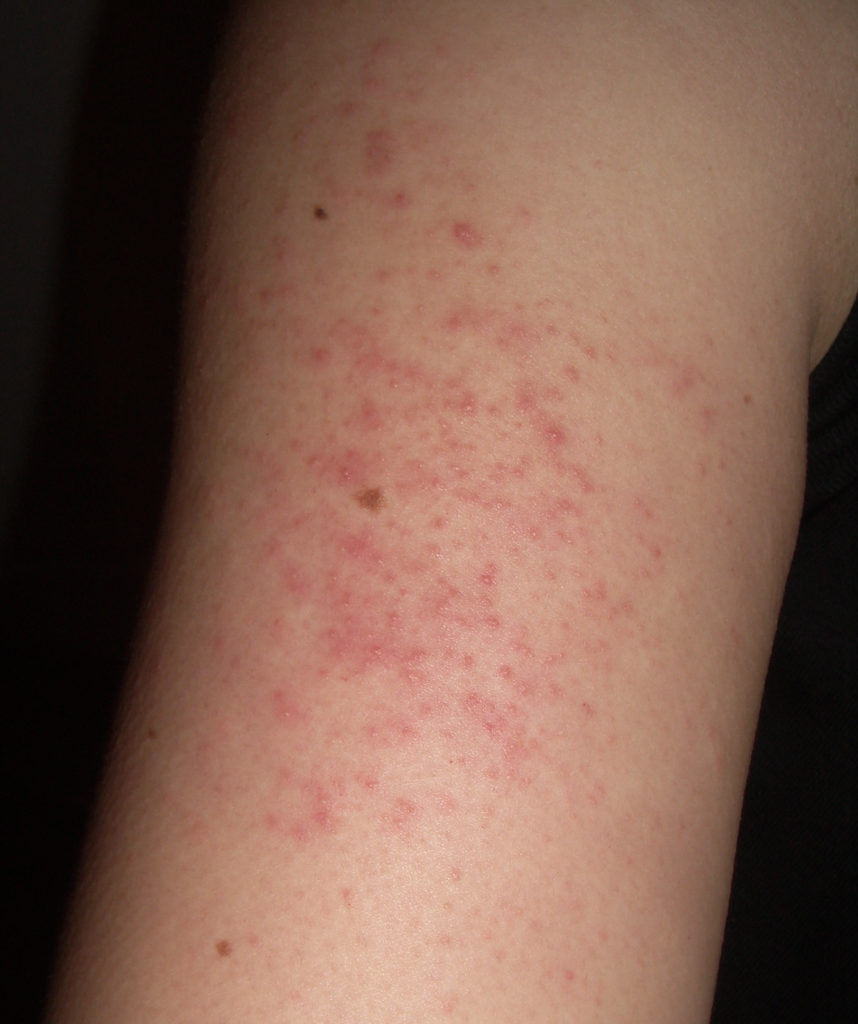 What causes keratosis pilaris?
When excessive amounts of keratin — the protein that protects our skin — build up at the surface, it clogs hair follicles and creates hard, rough patches of skin. Though it's unknown what triggers this buildup, it is known to be a genetic condition.
Who gets KP?
The condition usually appears in young children (under the age of two) and teenagers. While it can continue as you get older, most cases clear up by adulthood.
Those who have dry skin or eczema are more prone to keratosis pilaris, and it can also be a side effect of asthma, obesity, hay fever, or ichthyosis vulgaris.
Are there different of keratosis pilaris?
Yes, keratosis pilaris is classified into three types, based on how the condition presents and where on the body it's found.
Keratosis pilaris alba indicates bumpy skin that isn't irritated.
Keratosis pilaris rubra consists of inflamed bumps on arms, legs or face.
Keratosis pilaris rubra faceii presents as a red rash on the cheeks.
How do you treat KP?
Because the condition is benign and harmless, there is no "cure" for it, but there are treatments to alleviate the symptoms and appearance of the condition.
Chemical exfoliants such as salicylic, lactic, alpha hydroxy and glycolic acids can be used to remove dead skin from the surface and help restore smoothness. Vitamin A-derived retinoids can help clear hair follicles and prevent bumps from forming.
If the condition persists, ask your doctor about the possibility of microdermabrasion, light therapy, or laser treatment, all of which have been known to ease the appearance of keratosis pilaris.
Remember to always consult your doctor, and have patience — this is a harmless condition that you don't need to worry too much about, and clearing the condition can take time, and may involve multiple treatment approaches.