Looking for a way to tighten up sagging skin without the downtime that's associated with traditional face lifts? Enter thread lifts, the new and improved non-surgical facelift. Gwyneth Paltrow, actress turned wellness expert, made headlines in late 2015 for covering the service on Goop, calling it an "under the radar approach," to anti-aging, despite the fact that it wasn't deemed to be completely safe at the time. But thanks to FDA approval, new research and new advancements, the thread lift is making headlines again… and for good reason.
But what makes a thread lift different? What can it do, and is it the right option for you? We're here to fill you in on all things thread lifts.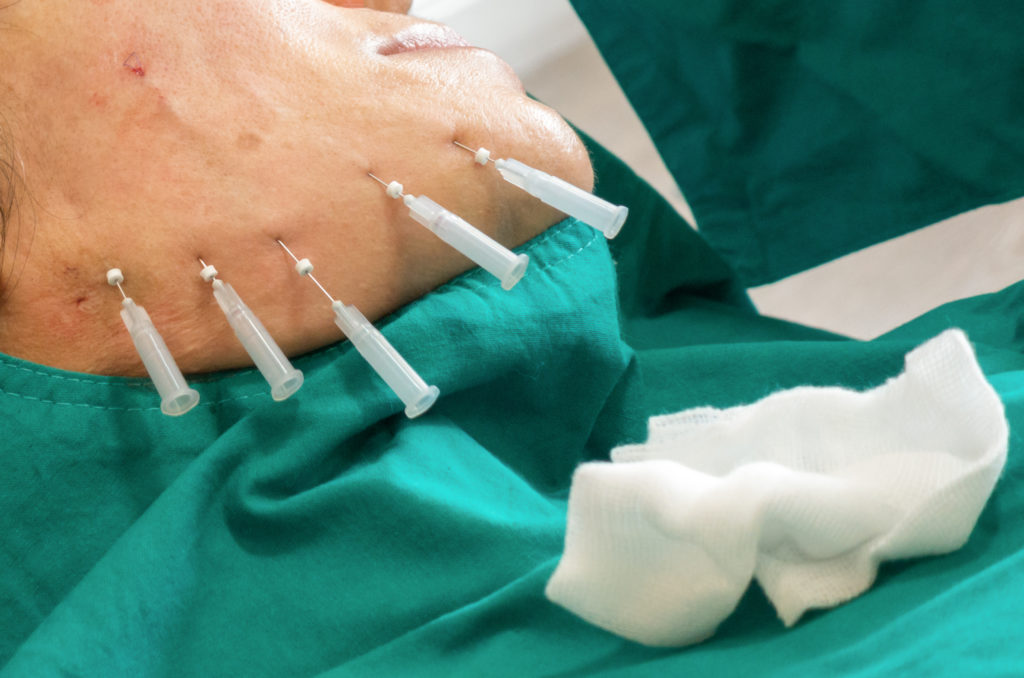 What is a thread lift?
A thread lift is the traditional facelift's less invasive younger sister. As the name would suggest, thread lifts use unique threads made of clear polypropylene, which are inserted through small incisions using a large needle. These threads have small cones on the end that grab and pull at the skin underneath the surface to lift and tighten it. These hypodermic needles are inserted superficially into the soft tissue, where they can grip and pull to reposition the skin.
One type of thread can be put into the skin to create a mesh-like pattern (sort of like a #) and the skin then builds new collagen around this mesh. Or, threads with small cones, as described above, can also be inserted individually and used to grip and tighten the skin as needed.
The crazy part? These threads actually stay in your body! They're surgical sutures that are made of a synthetic and absorbable polydioxanone, or PDO. They're the same kind of sutures that are used in cardiothoracic (heart) surgeries, and PDO is considered one of the safest materials that can be implanted in our bodies.
Have flabby skin elsewhere on your body that you'd like tightened? No problem! You can have a thread lift treatment done to just about any area of the skin — a professional can lift your breasts or butt, the skin on your neck and upper chest… even the skin above your knees!
One of the companies that creates thread lift materials, called NovaThreads, has some helpful graphics on its website.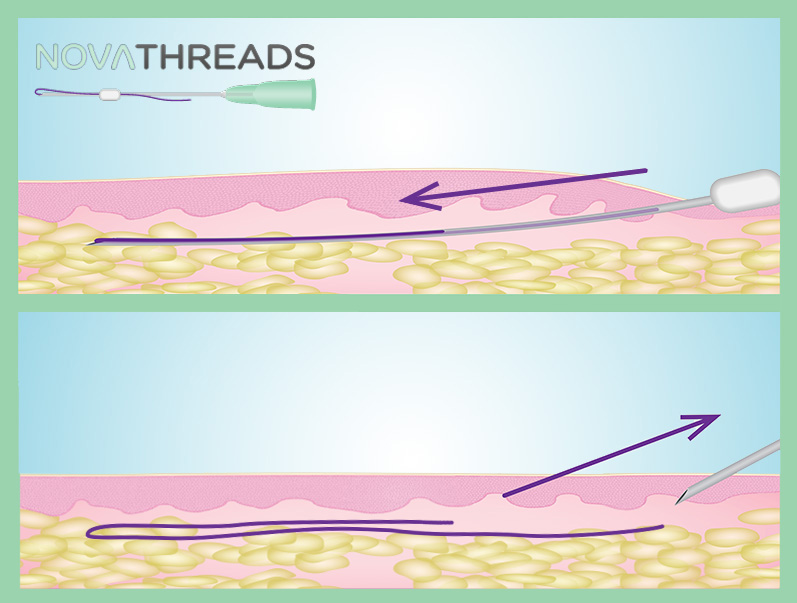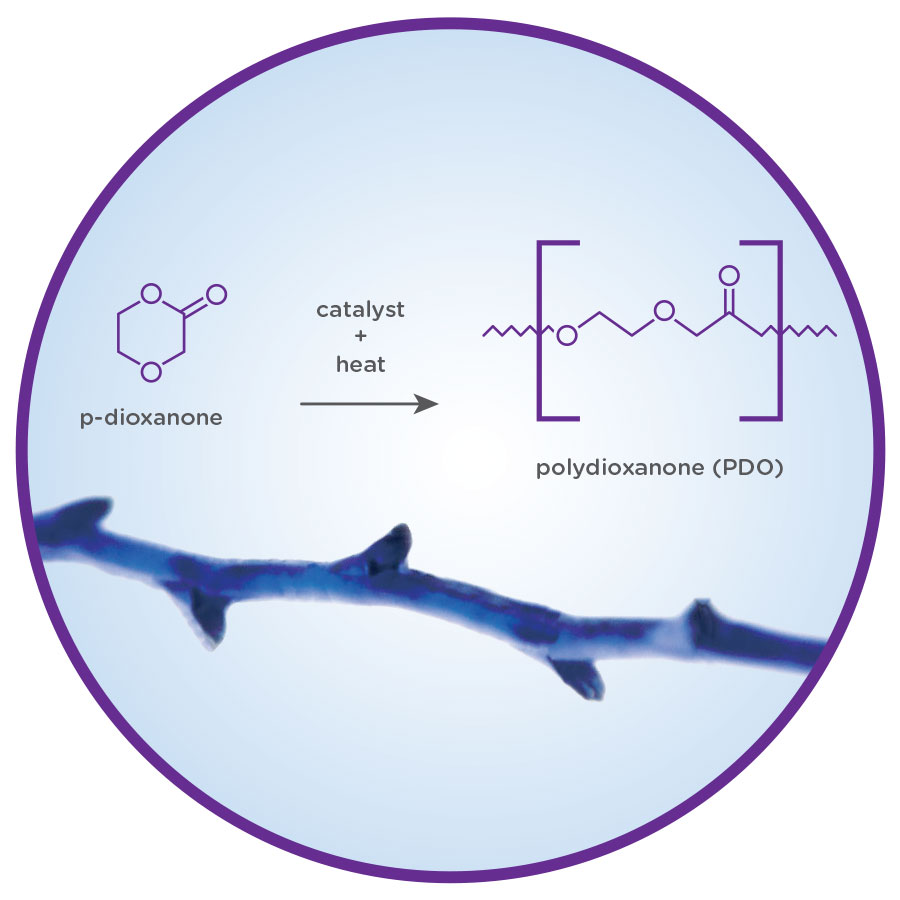 What To Know Before Booking A Thread Lift
Candidates for a thread lift are typically between the ages of 30 and 60 and their skin is just beginning to show signs of aging. Patients with more excessive sagging may not be candidates for the procedure, and may need to go the traditional facelift route. Thread lifts are ideally used as a preventative treatment on an already aging face, and can be a great way to have a test run of a future more permanent procedure option.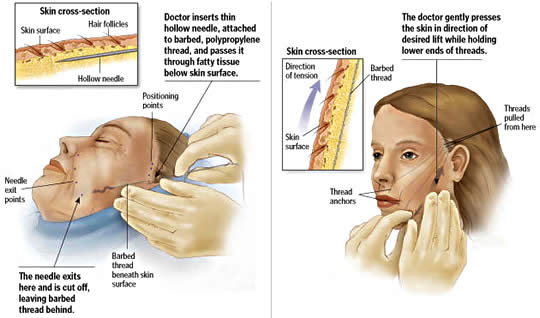 Asking The Right Questions
So how do you know that a thread lift is right for you? Consult with your plastic surgeon of choice in advance to discuss what areas you are interested in rejuvenating, and if necessary your payment structure. These procedures can cost anywhere from $1,500 to $4,500, depending on where you live and the size of the area that's being treated. Make sure you ask your doctor any and all questions you have about the procedure beforehand: What are the risks, side effects and possible outcomes are a few to think about.
What To Know During Your Thread Lift
Because a thread lift is a minimally invasive, non-surgical procedure, it requires little advanced preparation and less downtime. Thread lift procedures are done under local anesthesia, meaning patients are awake during the procedure, so it may not be the best if you find yourself squeamish.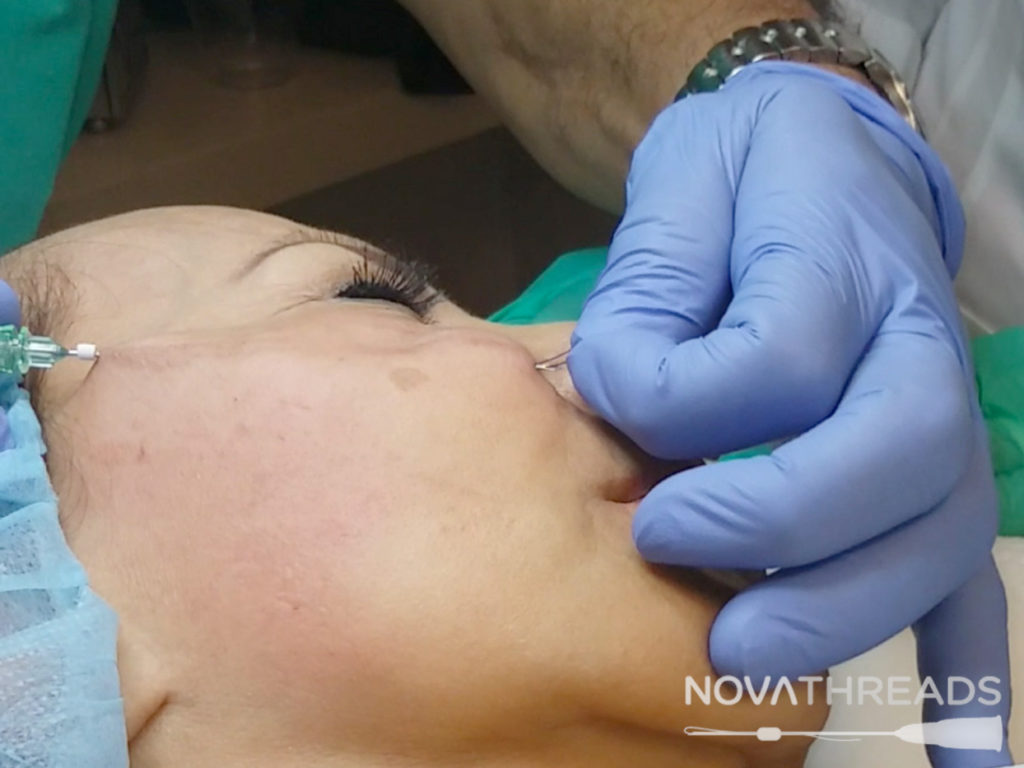 What to Expect After A Thread Lift
If the procedure is done on your face, most doctors will recommend you don't wash or touch the area for at least 12 hours. You'll likely be given a prescription for a pain killer, which can be used for the first 2-3 days after the procedure, which is when most of the pain, swelling and bruising will occur and be most uncomfortable. Following these few days, side effects should dissipate.
Thanks to the material of the threads and the way they're knotted after the procedure is completed, if any scarring results it will be virtually invisible. The new and improved threads are made with dissolvable materials, compared to the previous ones made of permanent suture materials, meaning there's a much smaller chance of infection because there's less for invasive bacteria to cling onto.
Pain may persist for another week or two, based on the individual patient. Depending on how your collagen reacts to the suture, the results of a thread lift will typically last four to six months as the skin naturally regenerates itself around the suture.