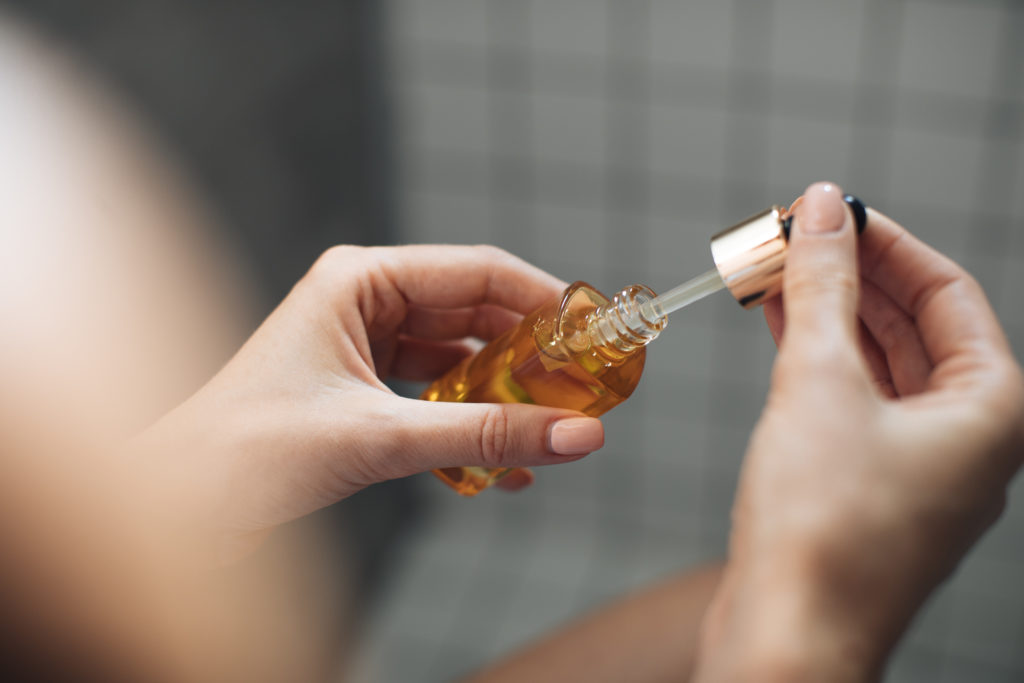 Serums. You've probably seen them on the shelves of skincare aisles or in the Instagram stories of your most trusted beauty sources and favorite influencers. Whether intended to slow down the effects of aging or to boost complexions with a healthy dose of vitamin C, serums come in a wide variety of formulas, each promising their own solution to your skincare concerns. Curious about the potential benefits of serums but don't really know where to start when it comes to incorporating these mini but mighty heroes into your routine? We get you. Keep reading to find out what they are, what they do, and how to choose the best one for your skin.
What are serums?
Think of serums as skincare regimen boosters that are capable of delivering a high concentration of ingredients deep into your skin. They are particularly effective thanks to their smaller molecular makeup, which allows for faster absorption and the ability to penetrate deep into the layers of your skin. What does that mean for you? Results you can see and feel!
It sounds cliche or like a skincare ad, but it's true. Because serums are so good at seeping into your complexion, you get to reap the rewards of that high dose of active ingredients, often in less time than other treatments might take.
Available in a range of price points and designed to treat a number of concerns, serums are making a name for themselves thanks to their personalized promise to address your issues — be that acne, dryness, aging, or just about anything in between.
Anti-aging serums — meaning formulas that address radiance, hydration, helping with fine lines and wrinkles, etc. — are some of the more traditional serums. Hydration is a big part of that category, but serums that address hydrating and moisturizing your skin (like the SLMD Hyaluronic Acid Serum) are key for anybody who has dry and/or dehydrated skin. Brightening serums are another huge category — vitamin C serums are all the rage, as it seems everyone has dark spots or uneven skin they'd like to erase. There are concentrated acne serums filled with active ingredients like salicylic acid and niacinamide to help treat pimples.

Who Can Use Serums?
Highly concentrated ingredients designed to tackle specific skincare concerns? Serums may already sound like wonder products, but the best is yet to come — quality serums are available for pretty much any skin type. That does, of course, require you to do a little digging to find one that's suitable for your skin. What's the best way to be sure you've found the perfect serum for you? Think about your skin and what you would like to improve, and find a serum tailored to suit exactly that.
If you live in a city with lots of pollution, you may be looking to add antioxidants to your routine to fight off free radicals. In that case, reach for the bottles labeled with vitamins C or E, resveratrol, green tea, and niacinamide. Want to plump your skin to improve uneven texture and get rid of fine lines? A hyaluronic acid formula should do just the trick. Looking to brighten and even your skin's tone and texture and get rid of dark marks and sun spots? Reach for retinol, or vitamins C and E.
Because serums aren't exactly one-size fits all products, take your time researching what you want to improve on your skin and shop serums designed to treat those exact concerns.

How to Use Serums
To get the most out of your serum of choice, you'll want to be sure to get your order of application down! Generally speaking, serums should be applied after cleansing and before moisturizing. Why? For starters, any skincare item should be applied to clean skin for the best results, so if you want to get the most for your money (who doesn't?) and want to prevent possibly clogging your pores, make sure to gently cleanse your skin and pat your face dry with a clean towel.
Then, apply your serum. A pearl-sized drop of serum is all it takes, if that, so read the label on your bottle and be sparing with your serving size. You can drop it directly onto your skin or onto your hand and then pat it into your skin. Even out that layer by using your hands to brush those tiny ingredient molecules into your skin using upward motions.
If you're using a serum for acne or hyperpigmentation, we like to apply a bit to the back of our hand, then apply it directly and gentle onto problem areas. If you're using serum to hydrate, ward off wrinkles, or to even out your complexion, don't be afraid to apply it all over, then pat any excess residue into your neck and chest for extra protection. To finish things off, follow up with moisturizer. Some serums can be hydrating but in order to lock in all that hydration and those beneficial ingredients, layer on a moisturizer to create a protective barrier around your complexion.
And as with any new skincare item, start slow by applying once a day (before bed is always a safe choice) and work your way up if you feel like your skin can handle that additional dose.